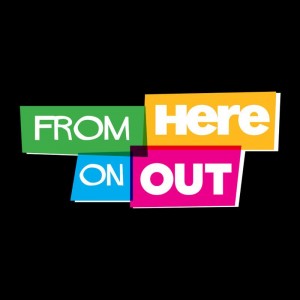 Here TV (www.heretv.com), America's only gay television network, today announced the television premiere of From Here on OUT, the premium network's first-ever original sitcom. Written and created by Terry Ray, who also stars, the first two episodes of From Here on OUTmake their television broadcast premiere on Friday, March 28, 2014, exclusively on Here TV.
"This series brings a full-frontal sensibility to a retro sitcom," says EMMY-nominated producer-actor David Millbern. "Injecting broad comedy into the Here TV space has created a truly fun experiment."
Directed by Sam Irvin, the six-episode series also stars EMMY Award winner Juliet Mills (QB VII, Nanny and the Professor), Suzanne Whang (House Hunters, Las Vegas), T.J. Hoban, Adrian Gonzalez (August), and newcomers Austin Robert Miller and Michael Lanham. Paul Colichman and Stephen P. Jarchow executive produce.
This outrageous new comedy goes behind the scenes at LGBT premium cable network Here TV. From Here on OUT centers on the adventures of aging gay writer, Jimmy Randall, as he tries to get his dream project made into a television series. After years of failed attempts, Jimmy finally sells his show, GUY DUBAI: INTERNATIONAL GAY SPY, to the 18 year-old president of Here TV. However, Jimmy must hire an openly gay leading man or the series will not go forward. Jimmy casts the sexy, talented Sam Decker. One problem: Sam is secretly straight. To keep their show on the air, Jimmy and Sam conspire to convince the network that they have become a gay couple. From Here on OUT, Sam must live publicly as a gay man while he, Jimmy, a pool boy, a diva maid wannabe actress, the network president, and his nanny-receptionist struggle every week to make a new television show … and in the process, a new family.
Guest stars appearing in the first season of From Here on OUT include Julie Brown, David Millbern, Sam Pancake, Jesse Pepe, and Emrhys Cooper.
Watch a teaser clip from From Here on OUT now at: http://youtu.be/jmHRnttzsRo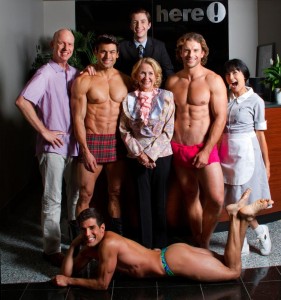 Here TV airs on all major U.S. cable systems as a subscription service. Here TV appears in 96 of the top 100 U.S. markets, including every top 10 market. Here TV is currently available as a linear service in New York City (Time Warner Cable channel #336), Los Angeles (Time Warner Cable channel #790), San Diego (Time Warner Cable channel #1159), Palm Springs/Palm Desert (Time Warner Cable channel #1028), New England (Time Warner Cable channel #287), Detroit (Brighthouse channel #531), Indianapolis (Brighthouse channel #235), Orlando (Brighthouse channel #398), Tampa Bay (Brighthouse channel #398), South Beach (Atlantic Broadband channel #470), and nationally on Verizon FiOS channel #445.
Here TV can be found via VOD and SVOD services by entering the "On Demand" menu, selecting "Premium," and then "Here TV on Demand."
To find out how to get Here TV, go to www.heretv.com/AGetHerePage. Here TV is now available as a YouTube paid channel.
Read more news from Here TV.
SOURCE Here TV