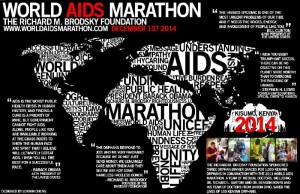 The Richard M. Brodsky Foundation is pleased to announce that registration is now open for the 2014 World AIDS Marathon, there will be a recap of the June 29, 2014, 5K AIDS Cancer Run Walk at Baldwin Park and please save the date December 13, 2014 for the 3rd annual Retrofest Benefit Concert for the Richard M. Brodsky Foundation.
For non-Kenyans the price is $130 and that entitles you to roundtrip transportation from the Imperial Hotel to 3 orphan dinner dances where you can dine, dance, play soccer and/or assist in examining the orphans plus you get to RUN WITH THE KENYANS on World AIDS Day. For Kenyans, the entry fee is 100 shillings, about $1.25 and they may register in Kenya, locations to follow.
Prize money will be a minimum of $1,000 split among the fastest marathon, half marathon and disabled athletes with some prize money going to the fastest relay team. This is not a race to run if big money is what you are seeking; examining and treating orphans, saving lives, providing a joyous evening for the orphans and letting them know that people in America, Australia, or wherever you are traveling from; we do care. The Richard M. Brodsky foundation and its global partners do everything we can do to raise awareness there are 15,100,000 orphans in sub-Saharan Africa who have lost one or both parents to AIDS. A lack of doctors, medicine, affordable healthcare, education, clean drinking water & nutritious food combined with an abundance of poverty, hunger, malaria & tuberculosis is the reason why 2/3 of the people dying from AIDS are from sub-Saharan Africa while only 12% of the global population calls sub-Saharan Africa home.
Source: News Release