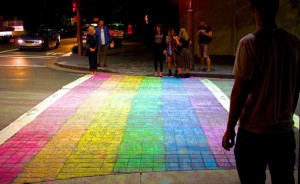 Totnes-based social enterprise Proud2Be Project are creating a rainbow crossing to mark this year's Totnes Pride event.
The initiative has been inspired by cities like London, Sydney and Brighton who created their own rainbow pedestrian crossings; to celebrate diversity and raise awareness about the issues still faced by the LGBT community. The rainbow flag is associated with the lesbian, gay, bisexual, and/or trans (LGBT) community and LGBT activities around the world.
The temporary rainbow crossing will be the first of its kind for a rural town and the proposed location of the crossing is outside St Mary & St George R C Church on Fore Street in Totnes. The crossing will be created with liquid chalk spray on Monday 1st September.
In order to create the most beautiful and professional job Proud2Be have teamed up with local artist, Karen Abadie who will lead the team of volunteers. To enable this initiative to go ahead Proud2Be have launched a crowdfunding campaign to raise £400 for materials.
Supporter of the initiative, County Councillor Robert Vint said "I am currently involved with plans for several real zebra crossings around the town and am delighted to also lend my support to this symbolic crossing to promote equality. Both projects, in their own ways, should help make the town a safer, friendlier and more inclusive place for all."
You can sponsor the crossing HERE and donate £10.00 for a listing on the Proud2Be website, £25.00 for your name to appear on the crossing or £50.00 for your name to appear on the crossing and a colour photograph of the crossing.
The initiative will mark the second Pride for Totnes, which will be held on Saturday 6th September and will bring Devon's lesbian, gay, bisexual &/or trans (LGBT) community together with their friends, families and supporters, for a full day and night of celebration in the town.
After the success of last year's inaugural Pride event, Human Rights Campaigner and Proud2Be Patron, Peter Tatchell will return to Totnes this year to join the festivities.
About last year's event, Peter said: "I was very proud to be a part of Totnes Pride 2013. It was a great success, with a wonderful community atmosphere and double the numbers expected…Bring on Totnes Pride 2014!"
Peter will be joined by Founder of Diversity Role Models Suran Dickson and retired political activist Christine Burns MBE, who is best known for her work with Press for Change. Christine was awarded an MBE in 2005 in recognition of her work representing transgender people.
Christine said: "Public displays of our pride and solidarity continue to be important. It's why I'm pleased to be a part of Totnes Pride."
Proud2Be is laying on a whole host of events in the town in what is now regarded as the UK's largest rural Pride event. The day kicks off at 10.00am outside The Dartmouth Inn, off The Plains, where there will be opening speeches from Mayor of Totnes, Jacqi Hodgson, Peter Tatchell & Christine Burns, who together with award winning Samba ROC Band will then lead a procession up Fore Street and High Street to Totnes Civic Hall.
Local community bus service Bob the Bus are taking part in the procession. Two buses will be decorated accordingly and will transport wheelchair users and those with mobility issues up Fore Street and High Street to the Civic Hall, during the procession, picking up from Seven Stars Hotel at 10.30. They will also be running a park and ride service throughout the day to avoid congestion in the town.
Then at the Civic Hall, visitors can enjoy; community art projects, talks & workshops, a variety of community information stands, Dot's Diner, a craft area, face painting, Loz's clay room, a cinema, library and more.
There will be a Question Time-style panel discussion where Peter, Christine and Suran will be joined by Jess MacIntyre, founder of ReachOut, a support network for LGBT refugees and asylum seekers in the UK and Alan Salt who from September, will be the new Principal at King Edward VI Community College in Totnes.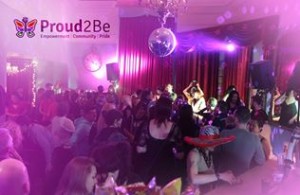 The fun continues into the evening at Totnes Pride After Party from 7pm at The Barrel House, which will feature live music from The Hummingbirds, Yourgardenday, popular Disco Funk band Golddust, visual projections from Lady Macadie and a DJ set from Madame Souza.
Entry to the daytime events at Totnes Civic Hall is just £2 for adults, £1 for 11-18 year olds, and is free to those under 11 and to Carers & Enablers. Tickets to the Totnes Pride After Party are £10.00 and available now from www.totnespride.co.uk or on the door.
Proud2Be which has recently been shortlisted from 21,000 organisations, down to the final five for a National Diversity Award, began three years ago when gay identical twin brothers, Mat and Jon Price sat in front of their web cam and recorded a short video. In the video they explained how they are both "proud to be gay".
Since then a number of high profile LGBT figures have contributed to the international campaign including Stephen Fry who said: "I am happy to be counted as a supporter of Proud2Be at every turn".
As well as running the campaign, Proud2Be; holds a number of social events in South Devon, has their own community radio show, facilitates workshops and provides consultancy to a number of organisations across the UK. Next year, Proud2Be will launch a Devon-wide Youth Service and open the first rural LGBT community hub in South Devon.
"We are so excited about this year's Pride," said Jon. "Along with our committee and volunteers, we have been working hard to ensure that Totnes Pride is a community event we can all be proud of."
"We are thrilled with the support we have received from the local community," said Mat. "For us Totnes Pride is not only a chance to celebrate diversity in our town but to also acknowledge how far we have come as a community in our fight for equality and how much there is still left to achieve."
Proud2Be are looking for volunteers to help out on the day. If you would like to get involved then please email Julie on julie@proud2beproject.org.
To find out more about this exciting event you can visit www.totnespride.co.uk or email info@proud2beproject.org.
Source: Mat Price, Proud2Be News Release