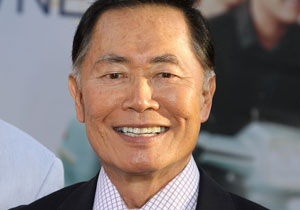 No, George Takei was not under the influence of Sybok, or Romulan Ale, or Deltan pheromones, or Landru, or spores, or even a virus whose main side effect is swashbuckling. Not this time, at least.
Takei says he is on board with gay Sulu, after the stars who now run the Star Trek franchise spent the past week being as gentle as a pair of gravity boots in their diplomatic disagreement.
"Let me be clear," reads the Facebook post of the man who originated the role of Starship Enterprise helmsman Hikaru Sulu. Takei writes, he's "delighted," "flattered," appreciates, understands and is "eternally grateful." He's apparently now drinking the Klingon Kool-Aid.
Full story below:
Source: George Takei lowers his shields, sets record 'straight' on gay Sulu