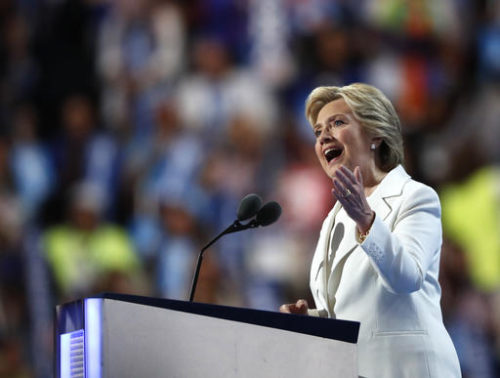 PHILADELPHIA (AP) — Promising Americans a steady hand, Hillary Clinton cast herself Thursday night as a unifier for divided times, steeled for a volatile world by decades in politics that have left some Americans skeptical of her character.
"I will be a president for Democrats, Republicans, independents, for the struggling, the striving and the successful. For those who vote for me and those who don't," Clinton said as she accepted the Democratic nomination, becoming the first woman to lead a major U.S. political party.
She drew a sharp contrast with her general election rival Donald Trump, calling the Republican supremely unqualified for the White House.
"Imagine him in the Oval Office facing a real crisis," she said. "A man you can bait with a tweet is not a man we can trust with nuclear weapons," she said.
Full story:
Source: Herstory made: Hillary Clinton accepts nomination for President