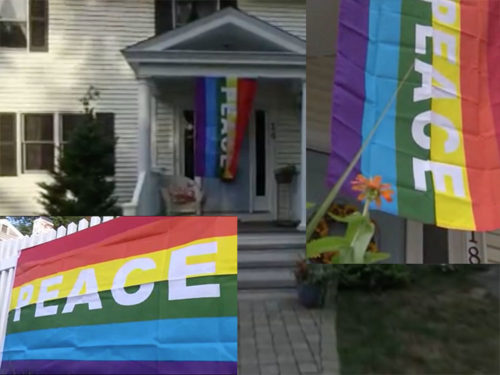 A lot of Pride flags are flying in Natick, Mass., even outside the houses of couples and families that don't have anyone LGBTQ living there. It's a heartwarming community response to show support for Lauri and Cari Ryding.
The Rydings returned last week to find their Pride flag gone, their home pelted with eggs. They said the sight of the eggshells on their doorstep and the empty flagpost broke their hearts.
"It was our first experience in Natick of having any type of prejudice," Cari Ryding told the Boston Globe. "We hadn't experienced it all, and it kind of broke open our little cocoon."
But as NewNowNext reported, their neighbors in Strawberry Hill decided to send a message of their own to those vandals. One by one, Pride flags bearing with the word "PEACE" popped up on doors, fences and porches.
Full story:
Source: 42 awesome neighbors hang Pride flags after vandals hit lesbians' home