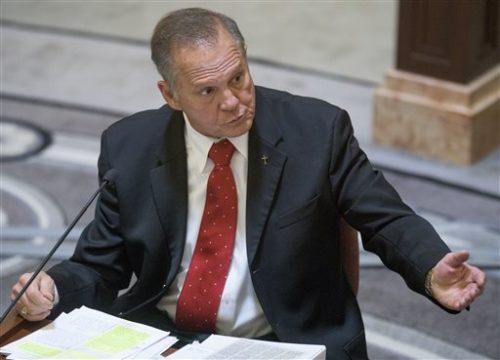 MONTGOMERY, Ala. (AP) — Alabama Chief Justice Roy Moore — famously removed from office 13 years ago for refusing to remove a Ten Commandments display — appeared before a judicial disciplinary panel Wednesday to answer accusations that he urged defiance of the federal courts again: This time on gay marriage.
The state's Judicial Inquiry Commission is seeking Moore's removal from the bench, arguing that in January he directed, or at least encouraged, the state's probate judges to refuse marriage licenses to gay couples.
"We are here 13 years later because the Chief Justice learned nothing from his first removal. He continues to defy the law," said John Carroll, a lawyer representing the Judicial Inquiry Commission, told the panel.
Carroll said Moore urged 68 probate judges to defy both what the U.S. Supreme Court had ruled on gay marriage and a federal judge's direct order to probate judges to stop enforcing Alabama's gay marriage ban.
Full story below:
Source: Will homophobic Alabama Supreme Court chief justice keep his job?