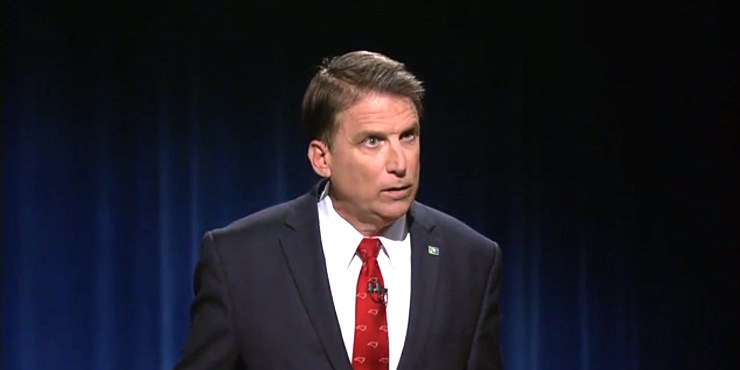 In a debate with his opponent, Attorney General Roy Cooper last night, North Carolina Governor Pat McCrory was forced to defend HB2, blaming it again on Charlotte's Mayor, the News & Observer reports:
McCrory blamed the controversy on Cooper and Charlotte Mayor Jennifer Roberts for what he called "a major change in culture."
"Governor, what planet are you on?" Cooper replied. "We've got to stop blaming it on others."
"The attorney general doesn't deny that he and Jennifer Roberts started this," McCrory shot back. He said the state needed HB2 to protect people's privacy in restrooms.
Watch:
McCrory told moderator Chuck Todd that if Caitlyn Jenner were to come to the state she would need to use the men's restroom facilities.
"If she's going to shower at a facility at UNC-Chapel Hill after running around the track, she's going to use the men's shower. "
Full story:
Source: Gov. Pat McCrory: Caitlyn Jenner Will Need to 'Use the Men's Shower' in NC – WATCH