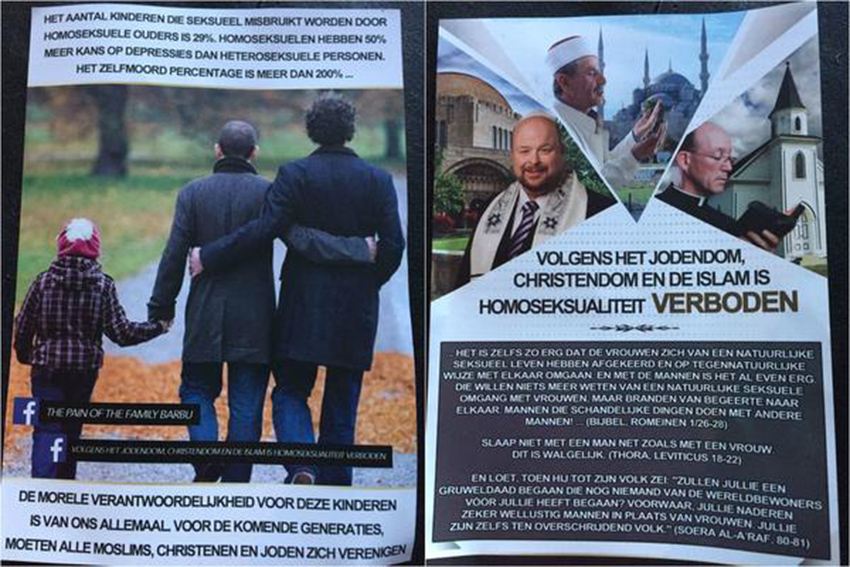 Three men have come forward after homophobic flyers were distributed to homes in Amsterdam last weekend.
The flyers, which called on all religions to 'unite against homosexuality', spread false information including that 29% of children to same-sex parents suffered sexual abuse.
The men's identities have not been released beyond the information that the group consisted of two 29-year-olds from The Hague and a 39-year-old from Rotterdam.
They turned themselves in on Thursday, after police had identified a fourth man from CCTV images.
Although he was apparently not involved in the group's actions, he was out and about with the men when they were also distributing the pamphlets.
During the interrogation on Thursday, police said the three men confessed to handing out the flyers in the city's West and Nieuw-West neighborhoods.
They reportedly claim they didn't want to hurt anyone's feelings, but rather to 'spark a discussion'.
Reportedly, they decided to distribute them in Amsterdam because it's commonly referred to as the country's gay capital.
The men have been released while the Public Prosecutor's Office is investigating whether what they did constitutes an offence.
Full story:
Source: Three men arrested after handing out homophobic flyers in Amsterdam