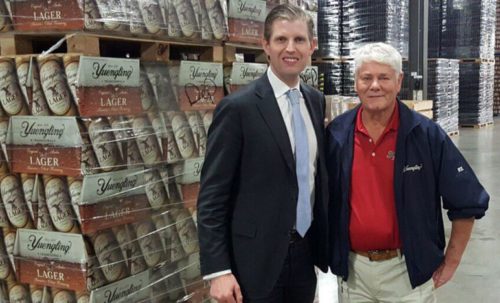 Eric Trump with Richard "Dick" Yuengling during a stop in the brewery on Oct. 24, 2016.
Donald Trump has been damaging his own brand with his bigoted, xenophobic, gaffe and scandal plagued presidential campaign, and the fallout is starting to spread to those who have unwisely hitched their wagon to his falling star.
Eric Trump, son of Donald Trump, toured the D. G. Yuengling & Son's brewery in Pottsville, Pennsylvania on Monday, meeting with owner Richard "Dick" Yuengling.
"This is an amazing American success story," Trump said during a brief news conference at the brewery, Reading Eagle reports. "We need a lot more of these."
"Because of a great company like Yuengling, workers can educate their kids and live a prosperous lifestyle," Trump said, making no mention of Yuengling's history of union busting which actually made workers' lives less prosperous.
"My father's going to make it a lot easier for business to function," Trump added. "We're going to do it right here in the U.S."
"Our guys are behind your father," Yuengling said. "We need him in there."
This quickly spawned a backlash with many beer drinkers calling on a boycott of America's oldest brewery, Philly Voice reports.
Rep. Brian Sims, the first openly gay elected state legislator in Pennsylvania, has joined that chorus of voices.
Full story:
Source: LGBT people are starting to boycott Yuengling beer after owner supports Trump