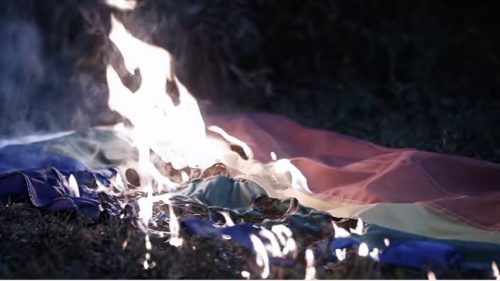 Breitbart tech editor and provocateur Milo Yiannopoulos stars in a new ad urging people to vote for Donald Trump, in which a rainbow pride flag burns amid fear-mongering around Muslim immigrants and the "regressive left" who love them.
Yiannopoulos has been traveling around the country on his "Dangerous Faggot" tour, where he plays fast and loose with the facts and makes outrageous claims in order to get attention for himself and upset those with common decency, as well as the low hanging fruit of outrage junkies.
He most recently upset both groups with his talk arguing that transgender people, whom he refers to with the slur "trannies," are really just gay, as well as being mentally ill, and arguing that it is time for the LGBT community to drop the T.
Yiannopoulos can be seen in the ad delivering a talk near the site of the Pulse nightclub, where 49 people were killed and dozens more injured in the most deadly modern day mass shooting in American history. He enjoys using dead people as political props, doing so recently with a performance piece wherein he climbed into a tub filled with blood alongside photographs of people who have been killed by undocumented immigrants for a pro-Trump art show.
Full story:
Source: Homocon Milo Yiannopoulos burns LGBTQ Pride flag in new pro-Trump ad