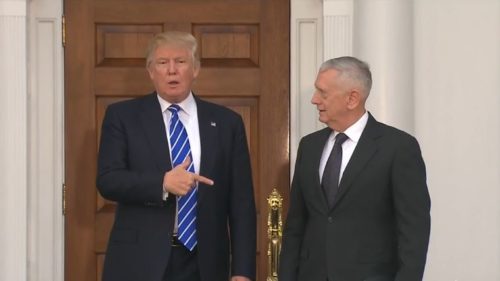 President-elect Donald Trump announced on Thursday that he has selected former general James Mattis to be his secretary of defense, a man who has voice opposition to LGBTQ people openly serving in the military. He has also questioned women serving, claiming they are unsuited for "intimate killing."
Mattis oversaw military operations in the Middle East and Southwest Asia from 2010 to 2013, before being relieved of his duties by the Obama administration over concerns that he was too hawkish.
In the book Warriors & Citizens: American Views of our Military, which Mattis co-edited a book with Kori N. Schake, a research fellow at Stanford University's Hoover Institution who served as the McCain, Palin campaign's senior policy adviser, he argues that the repeal of "Don't Ask, Don't Tell" was a mistake.
"We fear that an uninformed public is permitting political leaders to impose an accretion of social conventions that are diminishing the combat power of our military," Mattis and Schake write in the book, published in August of this year, reports Foreign Policy.
Full story:
Source: Trump's Defense Secretary pick Mattis is opposed to female and LGBTQ soldiers