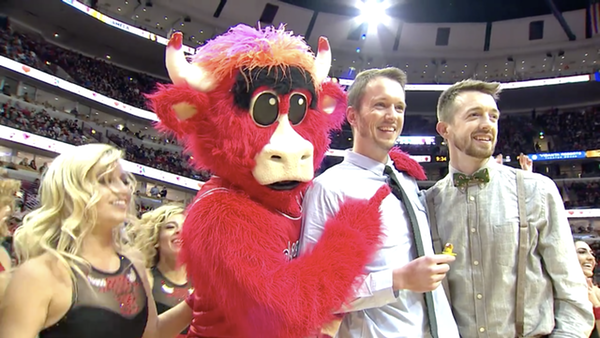 A gay couple got engaged during Thursday night's Chicago Bulls game against San Antonio and video of the proposal is the perfect reprieve from the colossal amount of awful going on in the world right now.
Jake Conrad wanted to propose to his boyfriend Michael Holtzman in a special event before a Bulls game, and after reaching out to friends on Facebook, was able to get in touch with the team to set up the proposal. The Bulls management were so moved, they decided to help Conrad up the ante.
While marriage proposals are regular occurrences at sporting events and concerts, this is the first one we have heard about that involved a same-sex couple at an NBA game.
 Bulls spokesman Ross Lipschultz sent Outsports this statement:
"At the Chicago Bulls game vs. the San Antonio Spurs on December 8, the Bulls worked with Jake Conrad to set up an in-game proposal for his partner, Michael Holtzman. Michael has been a lifelong Bulls fan and watches every game. After he once told Jake that his dream was to go to a Bulls game, Jake knew he wanted to propose to Michael at a game to show him how committed he is to making Michael's dreams come true.
"Jake bought tickets to the game and contacted the Bulls to purchase a fan experience package to propose before the game. The Bulls were touched by Jake and Michael's story and wanted to make the experience extra special, so they asked Jake if he would be open to proposing during the game. Once Jake agreed, the team worked with him to set up a proposal during a timeout involving Benny the Bull and the Luvabulls. The Chicago Bulls are honored to have been part of such a special moment for this couple."
Full story with video:
Source: This Gay Couple Got Engaged at a Chicago Bulls Game and It Was Absolutely Adorable – WATCH