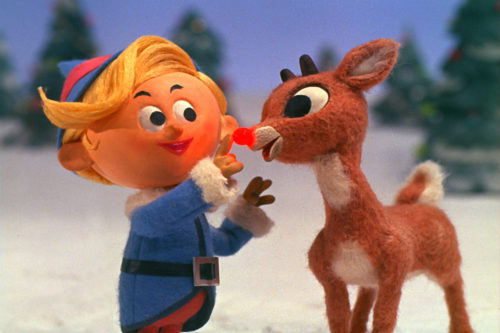 How long has it been since you watched that animated Rudolph the Red-Nosed Reindeer from the 60s? If the last time you saw it predates your coming out, you might want to give it another look. It's super duper gay.
In a strange seasonal confluence — let's call it a Christmas miracle — two outlets have noted the special's lavender overtones. Over on Vulture, Brian Moylan writes of the special's "pre-Stonewall contemplation of the power of coming out." And on The Sewers of Paris (a podcast about gay men and the entertainment that's changed their lives) this week's guest Jonathan Renteria-Elyea reflects on how meaningful the songs about "misfits" were to him as a kid.
Brian's analysis is spot-on: the movie starts with an intense enforcement of gender roles (boys=blue, girls=pink). And on Sewers, Renteria-Elyea notes that Rudolph's mom never has a name aside from "Mrs. Donner." Donner forces Rudolph to hide his nose for years, until he's finally humiliated by a colorful reveal — at which point Santa tells Donner he should be ashamed.
Rudolph then meets Hermey, an elf with fancy hair and a voice like Paul Lynde. They essentially go cruising together and then meet a fun bear named Yukon Cornelius who is searching for a peppermint mine (this plot point was removed from later broadcasts, though he still licks his pickaxe in a way that evokes Peter Lorre in The Maltese Falcon).
Eventually, Rudolph finds a gay ghetto on the Island of Misfit Toys, then returns to civilization when he learns to make himself useful — and as is noted on The Sewers of Paris, that's precisely what out gay men had to do in the 60s to survive. They needed to be so vital that they couldn't be rejected. (Rudolph also acquires a beard, times being what they were.)
Full story and podcast:
Source: Revealed: The obvious gay subtext of 'Rudolph the Red-Nosed Reindeer'