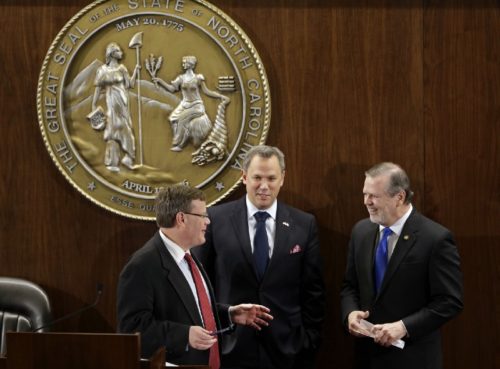 After hours of deliberation and debate during a special session on Wednesday, the North Carolina General Assembly adjourned without voting to repeal House Bill 2. The anti-LGBTQ law has cost the state millions of dollars and hundreds of jobs due to boycotts. The repeal was meant to bring an end to the economic suffering, but from the beginning there were signs of a lack of trust between the city of Charlotte and the state.
The plan was that Charlotte would rescind its expanded non-discrimination ordinance, which offered protections to the LGBTQ community, and the North Carolina General Assembly would vote in a special session to repeal House Bill 2.
Charlotte's expanded ordinance, passed in February, protected the LGBTQ community from discrimination and allowed transgender individuals to use the restrooms and locker rooms matching their gender identity. The state responded with HB2, which nullified all ordinances passed by cities and municipalities, required trans people to use facilities matching the gender on their birth certificate in government owned buildings, capped the state's minimum wage and prevented people from suing in state court for employment discrimination, since fixed by executive order.
Charlotte voted on Monday, reportedly at the urging of Governor-elect Roy Cooper, to repeal the portions of its ordinance made null and void by HB2. They left in protections for employees of business that contract with the state. That was also repealed by a city council vote earlier on Wednesday, which also removed the Dec. 31 deadline for the state to repeal HB2 lest the ordinance go back into effect.
Senate Republicans put forward a bill that would repeal HB2, but put in place a block on ordinances for six months. That later ballooned to the end of the 2017 session over concerns that six months wouldn't provide a long enough time frame to come up with what Sen. Phil Berger described as a "long term" solution.
Democrats were outraged at the move.
"I'm sorry, this was not the deal. The deal was Charlotte repeals fully and we repeal fully," said Sen. Jeff Jackson. "Charlotte was told over and over again, Charlotte, if you take the first step you will be met halfway. Charlotte did that and we're being shoved away one more time."
Full story:
Source: North Carolina Republicans dupe Charlotte City Council, refuse to repeal HB2