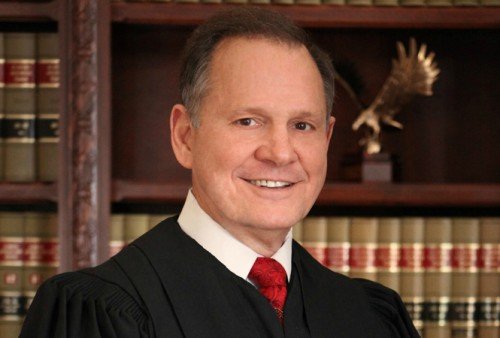 The office of Alabama's Governor, Republican Robert Bentley, confirmed he's interviewed suspended Chief Justice Roy Moore Wednesday, as a potential replacement for Sen.Jeff Sessions. The confirmation by WTVM-TV was reported by Talking Points Memo.
President-elect Donald Trump chose the longtime Alabama lawmaker to join his cabinet as U.S. Attorney General. Should the appointment be confirmed by Congress, that would leave a vacancy that is left to Gov. Bentley to fill with an interim senator, until a special election can be held.
In September, a panel of Alabama judges ruled Moore would be suspended for the remainder of his term, for the second time in his legal career. The court found him guilty of all six charges of violation of canon of judicial ethics, for telling probate judges to defy federal orders regarding same-sex marriage.
Source: Will Alabama governor fill empty Senate seat with antigay judge Roy Moore?