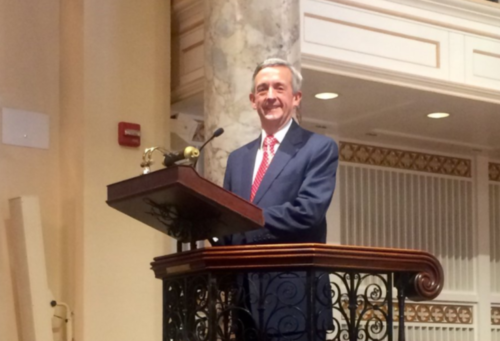 A
Texas
megachurch pastor with a reputation for demeaning LGBTQ people was scheduled to deliver the sermon at a private religious service this morning at St. John's
Episcopal Church
as part of
Donald Trump
's inauguration,
CNN confirmed
.
Pastor Robert Jeffries, a Southern Baptist who campaigned for Trump and is a member of his evangelical advisory board, leads First Baptist Church in
Dallas
and has blamed gays for paving the way for the Antichrist.
"What is happening is that we are becoming desensitized to the persecution of Christians just not globally, but also in our Country. The fact is that we are being told that Christians who
refuse to serve a wedding cake to a gay couple
, that they are extremists, its OK to take their livelihood and shut down their business," Jeffress
said on a Christian talk show
 promoting his book
Countdown to the Apocalypse: Why ISIS and Ebola Are Only the Beginning
in 2015. "I believe that we are getting desensitized to that, which will pave the way for that future world dictator, the Antichrist, to persecute and martyr Christians without any repercussions what-so-ever."
Jeffries' inclusion in the inaugural events is troubling to LGBTQ advocates, who worry about the message it sends for the incoming president to endorse Jeffries views.
"The inauguration and the people invited to pray at the inauguration speak to the values and the agenda of the incoming president," Ross Murray, director of programs for
GLAAD
,
told CNN
. "Jeffress' anti-LGBTQ message is now going to be tied to this administration and its policies."
Read more from source: Rabidly anti-gay pastor preaches at Trump's private Inauguration Day service