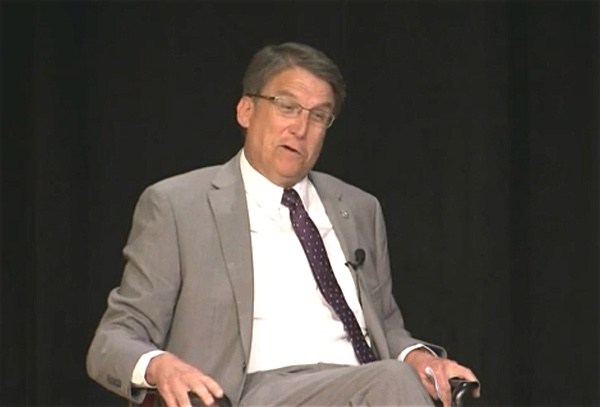 Former North Carolina Governor Pat McCrory says some people are reluctant to hire him because he was the driving force behind the state's anti-LGBT HB2 law, the News & Observer reports:
The former Republican governor says HB2 "has impacted me to this day, even after I left office. People are reluctant to hire me, because, 'oh my gosh, he's a bigot' – which is the last thing I am."
McCrory then proceeded to bash transgender people:
McCrory said the liberal groups opposing HB2 have harmed his reputation. "If you disagree with the politically correct thought police on this new definition of gender, you're a bigot, you're the worst of evil," he said. "It's almost as if I broke a law."
McCrory made the case that the core of the HB2 debate is an attempt to redefine gender. "You ask the doctor if it's a boy or a girl; you don't ask the baby," he said.
The NC Democratic Party released a statement in response to McCrory's whining.
Said spokesman Mike Gwin:
"North Carolina has already lost hundreds of millions of dollars in economic activity and thousands of jobs as a direct result of House Bill 2, but I guess we can start adding Gov. McCrory's career to the total as well."
The post Former NC Gov. Pat McCrory: 'People are Reluctant to Hire Me, Because 'Oh My Gosh, He's a Bigot" appeared first on Towleroad.
Source: Former NC Gov. Pat McCrory: 'People are Reluctant to Hire Me, Because 'Oh My Gosh, He's a Bigot" – Towleroad