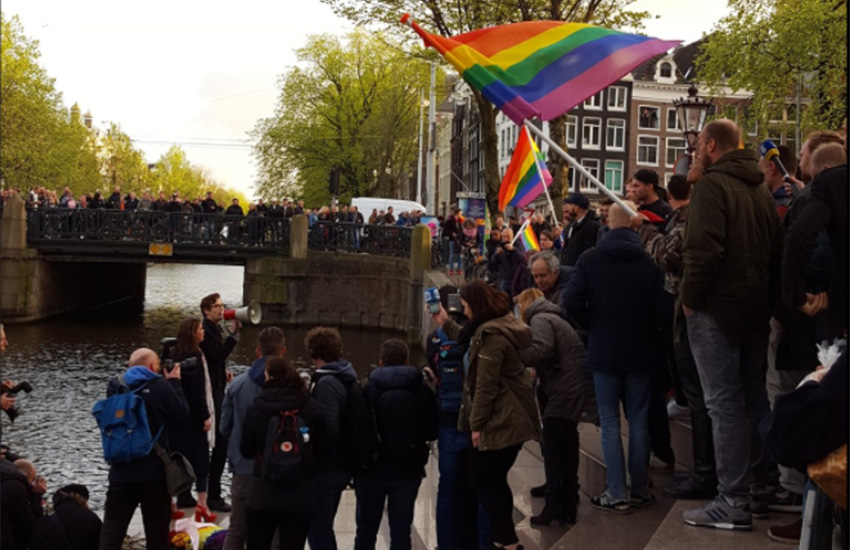 Hundreds came together in Amsterdam to march against homophobia last night (5 April).
The protestors came together in support of Jasper and Ronnie, a gay couple from the small city of Arnhem, near the German border.
At the weekend, they were walking home when a group of teenagers attacked them for holding hands.
Two further couples were attacked over the weekend – one in Amsterdam and one in Eindhoven.
A day later, Dutch politicians and celebrities walked hand in hand and shared the pictures on social media to show their support.
Yesterday's march was also in support of the couple.
According to the NL Times, about 2,000 people attended.
They peacefully walked through the city, hand in hand, to take a stance against homophobic violence.
Among the attendees were a number of Dutch celebrities, including famous TV presenter Henny Huisman and musician Douwe Bob.
Antihomogeweld demonstratie handinhand Amsterdam #handinhand #bartchabot #henniehuisman #fritsbarend #henkschiffmacher #louisevanteylingen pic.twitter.com/aVg9GEujkN

— alphons nieuwenhuis (@alphonsnet) April 5, 2017
Ellie Lust, leader of Amsterdam's LGBTI police team, was also among the marchers.
But between the defiance, some marchers also expressed sadness at the events.
'I find it really absurd, unbelievable and this is feeling like we are going backwards,' Sjag Kozak told Euronews.
Originally from Israel, he married his husband in Amsterdam and has been living in the city for 21 years.
'So that's why we're here: To make a statement to let people know that we are moving forward and not going backwards.'
He said they also wanted to 'show the world that it is possible to walk hand-in-hand in Amsterdam.'
Veteran gay rights campaigner Marion van Hees said she was marching for equality and freedom – and she was ready to pick up the fight again.
'In the 60s, I stood on the barricades for freedom, and this is what has become of it,' she said.
'Now we've got to do it again, and I thought we had finished, that we had achieved it.
'But that's clearly not the case. And I think that's very sad. So I'm going back to the barricades again.'
Source: 2,000 hold hands and march against homophobia in Amsterdam