Compiled By GayToday
As the nation's largest lesbian and gay legal organization, it is crucial that we recognize and celebrate the perseverance and pride of these leaders who have helped change the face of America.
Kevin Cathcart--Executive Director, Lambda Legal Education and Defense Fund
---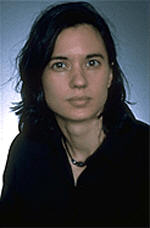 Kimbery Peirce
New York, New York—Kimberly Peirce, director of the Oscar-winning film Boys Don't Cry; Richard Burns, executive director of the New York Lesbian & Gay Community Services Center; and Tim Gill, founder and chairman of Quark, Inc. and President of the Gill Foundation will all be honored next Monday here at the annual Liberty Awards of the Lambda Legal Defense and Education Fund, the nation's largest lesbian and gay legal organization.

Kate Clinton will be mistress of ceremonies to be held between 6-10 p.m. at the Hammerstein Ballroom, 311 West 34th Street, New York City.

The Lambda Liberty Awards were established in 1987, commemorating the passage of New York City's historic civil rights law banning discrimination on the basis of sexual orientation.

Since its inception, the Awards have honored individuals who have significantly advanced the principles of equality and fairness embodied in that ordinance.

Peirce's Boys Don't Cry was nominated for two Academy Awards, Hilary Swank winning in the category of Best Actress. This gripping and courageous film explores the life and senseless death of Brandon Teena, the young Nebraskan brutally raped and murdered in 1993 by assailants outraged that he was born female but lived as a man.

Lambda is now representing Teena's mother in a civil suit against the sheriff who failed to protect him. Peirce is being honored for giving Americans a better understanding of gender expression, sexual orientation, and hate-motivated violence.

Related Stories from the GayToday Archive:
Honoring Anne Heche & Billie Jean King

Spirit of Bigotry Awards Announced by Lesbian Avengers

The Stars Come Out for GLAAD

Related Sites:
Lambda Legal Defense & Education Fund

Boys Don't Cry: Official Site

GayToday does not endorse related sites.

Under the tenure of Richard Burns, New York City's Lesbian and Gay Community Center has grown to one of the nation's largest institutions of its kind. The Center, a vibrant resource that fosters cultural, social, and political activity, serves as a model for countless communities nationwide.

Currently Burns is leading the Center's multi-million-dollar reconstruction plan. Lambda says it is recognizing Burns because of his "astute vision, steady leadership and many years of dedicated service to lesbian and gay community locally, and across the country."

Tim Gill, the innovative computer software entrepreneur, started his Denver-based philanthropic organization in 1994. Quark is one of the leaders in cutting edge software.

Gill has donated more than $10 million in grants to hundreds of organizations and programs serving the lesbian, gay, bisexual and transgender communities as well as to people living with HIV/AIDS.

Lambda is honoring Gill for his pioneering spirit and for generously demonstrating how strategic philanthropy can support lesbian and gay activism and civil rights.
---
Tickets Available: Toby Neiman: 212-809-8585 Extension 219