Voters in Houston, the fourth-largest city in the U.S., elected an openly lesbian mayor Dec. 12.
City Controller Annise Parker captured 53.6 percent of the vote in an election that saw a turnout of fewer than 17 percent of registered voters.
"I know what this win means to many of us who never thought we could achieve high office," Parker, 53, said in her victory speech, with her partner of 19 years, Kathy Hubbard, and their three children at her side.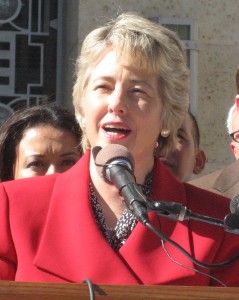 "This election has changed the world for the gay, lesbian, bisexual and transgendered community," she said.
Some analysts suggested Parker's victory margin came at the hands of white liberals and gay and lesbian voters.
In the final weeks of the campaign, anti-gay activists gay-baited Parker with mailers and e-mail blasts.
"I wish you could be here right now," Gay & Lesbian Victory Fund President Chuck Wolfe e-mailed from Parker's victory celebration. "This is an important milestone for our country, but it's equally important to know voters in Houston chose Annise even after a flurry of anti-gay campaigns designed to divide and distract voters. This time the extremists failed."
"It's hard to describe how happy everyone is here," Wolfe said. "After so much depressing news lately regarding LGBT equality, it's nice to be able to smile this wide."
The Victory Fund supported Parker all six times she was elected to the City Council and in her successful campaign for city controller.
Other cities that have had openly gay mayors include San Diego; Providence, R.I.; Portland, Ore.; Chula Vista, Calif.; and Cambridge, Mass. — but Houston, population 2.2 million, is the largest.
By Rex Wockner