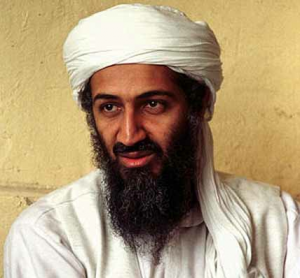 President Barack Obama has reviewed potential threats to the United States before next week's anniversary of the killing of Osama bin Laden, but there is no concrete evidence al Qaeda is plotting any revenge attacks, the White House said on Thursday.
U.S. Navy SEALs shot bin Laden last year in a raid on the al Qaeda leader's compound in Pakistan before dawn on May 2 local time, which was May 1 in the United States. The killing is touted by the Obama administration as one of its top national security accomplishments.
"At this time, we have no credible information that terrorist organizations, including al Qaeda, are plotting attacks in the United States to coincide with the anniversary of bin Laden's death," White House press secretary Jay Carney said on Thursday.
That assessment was echoed in an FBI and Department of Homeland Security intelligence bulletin issued on Wednesday to state and local law enforcement agencies.
The bulletin said U.S. agencies did "assess that al Qaeda's affiliates and allies remain intent on conducting attacks in the Homeland, possibly to avenge the death of bin Laden, but not necessarily tied to next month's anniversary."
It added that individuals had "posted messages threatening unspecified attacks in the Homeland that coincide with the anniversary on violent extremist Web forums." But the bulletin added that "such threats are almost certainly aspirational."
Carney said that Obama reviewed the "threat picture as we head into the anniversary of the bin Laden takedown," and he emphasized the risk of revenge by al Qaeda remained real.
News of the demise of the man behind the September 11, 2001, attacks on New York and Washington was widely celebrated in the United States. But it fanned anti-American sentiment in the Muslim world, particularly Pakistan, which was deeply embarrassed by the raid inside its own territory.
The New York Police Department also said it was unaware of any threat related to the bin Laden killing anniversary.
"But the NYPD continues to maintain a robust counterterrorism posture regardless of anniversaries because of past and repeated interest demonstrated by terrorists in returning here to kill New Yorkers," said Paul Browne, the department's chief spokesman.
ELECTION CAMPAIGN
As well as being a national security issue, the approaching anniversary has also featured in the U.S. election campaign, with Vice President Joe Biden recalling the moment on Thursday as he criticized presumptive Republican presidential nominee Mitt Romney for his foreign policy vision.
"If you are looking for a bumper sticker to sum up how President Obama has handled what we inherited, it's pretty simple: Osama bin Laden is dead and General Motors is alive," he said in a speech in New York. Romney opposed a government bailout of the U.S. auto industry.
Carney said it was legitimate to discuss bin Laden in the context of the president's record as he seeks re-election.
"Al Qaeda, led by Osama bin Laden, launched attacks against this country that took thousands of lives. … So it is a part of his foreign policy record, obviously, but it is also part of a very serious endeavor to keep our country safe," he said.
The anniversary threat warning bulletin, carrying an "official use only" label and the headline "One-Year Anniversary of Usama bin Ladin's (sic) Death: No Specific Threat to the United States," noted that after bin Laden was killed, several al Qaeda affiliates, including the Pakistani Taliban, the al Qaeda North African affiliate known as AQIM, and Al Shabaab, an al Qaeda affiliate in Somalia, "publicly vowed retaliatory attacks against Western interests."
But the bulletin added that U.S. agencies "have not detected signs of Homeland plotting by these groups in the intervening months."
Despite the lack of evidence of a threat, the bulletin cautioned that al Qaeda "probably would view a homeland attack on this anniversary as a symbolic victory that would help reassert the group's global relevance following the major leadership losses and operation setbacks it has suffered over the past year."
By Alister Bull and Mark Hosenball
WASHINGTON (Reuters) – (Editing by Peter Cooney)