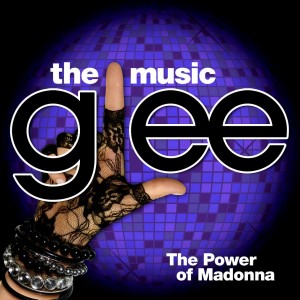 Glee: The Music, The Power of Madonna
Glee, we were already crazy for you. But then you went even gayer and did an all-Madonna episode! With Sue Sylvester doing â??Vogueâ?! Turns out, we can love you more. The cheer coach adds her infamous cutthroat attitude to one of musicâ??s most delicious songs in a way that even the Material Girl herself could, ya know, cherish. With her show-singing debut, one of TVâ??s favorite meanies sings with apropos swagger, not sounding all that different from Her Madgesty with slight Auto-Tune and hilariously dropping her own name among the legends in the spoken-word bit. Other New Directions kids get into the groove with equal â?? if not more â?? Madonna moxie on this EP-ish release, which includes seven other faves from the veteran diva. A mash-up of early career classics â?? â??Borderlineâ? and â??Open Your Heartâ? â?? works even if Finn wrestles with Rachelâ??s powerhouse pipes. No surprise, she keeps him down. Finn fares better with the seriesâ?? guy gaggle, giving an all-dude adaptation of â??What it Feels Like for a Girlâ? thatâ??s shockingly sweet and tender and not at all as weird as it should be. Out theater doll Jonathan Groff â?? one of the Fox show's fresh faces â?? joins the rest of the cast on â??Like a Virgin," and Mercedes injects some of her sassy soul into â??4 Minutes.â? Arrangements stay true to their originals â?? right on, Ryan Murphy! â?? and the ensemble totally nail â??Like a Prayerâ? with a chilling intro and the choirâ??s moving end-runs. So good it is, in fact, just like a dream.
Grade: B+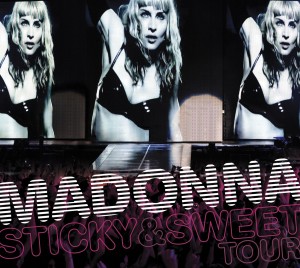 Madonna, Sticky & Sweet Tour
Even if our Gay Goddess ran out of reinventions and sold into mainstream trends with Hard Candy, the unremarkable album she supported on this 2008-09 tour, Madonnaâ??s mojo still makes for one heck of a show. Over several hours â?? a couple on DVD; one on CD â?? the enduring diva gives us a shotgun seat on her disco ball. The album, thankfully including many of the genius do-overs of such heyday classics as â??Vogueâ? and â??La Isla Bonita,â? is cool and almost too polished, but what hardcore fans really wanna see is Madonna get her jump-rope on, enter on a throne and masturbate with her guitar. Watching her do so during this Buenos Aires stint â?? being both playful and intense â?? is definitely a steal compared to the in-person cost, but no DVD could ever mimic the magic of seeing Madge live. With full-screen videos and scoping cameras, it captures that rush as best as you could hope for from someone of such Queen of Pop caliber. Seeing Madonna rip apart her guises, sing â??Human Natureâ? alongside a videoed-in Britney Spears or make â??Into the Grooveâ? a pulsating playground were just a few highlights of this tour â?? one filled with frilly fun, flamboyant theatrics and the kind of energy thatâ??s typical of someone half Madonnaâ??s age. Go behind-the-scenes of it all with a 30-minute feature that actually feels like a backstage pass to one of musicâ??s most iconic fixtures. Howâ??s that for Sweet?
Grade: A-
Also Out
Rufus Wainwright, All Days Are Nights: Songs for Lulu
Troubadours like Rufus Wainwright get off on being grandiose, but what happens when you lose something you canâ??t get back? You scale it down, as he has after the recent death of his mother. On his sixth studio album, Wainwright comes equipped with his rich croon, the piano and lots of grief. It weeps and wallows, only once sounding anything like his usually flamboyant baroque-inspired self on â??Give Me What I Want and Give it to Me Now!â? Otherwise, heâ??s sulking â?? crying for sibling civility on the standout â??Marthaâ? and then leaving us with an emotional juggernaut, the lonely â??Zebulon,â? that shoots right through your heart.
Usher, Raymond v. Raymond
Usherâ??s one horny hottie. He basically does the dirty enough on his latest CD to make you forget about his other career â?? the music one, where heâ??s wooed followers with his smooth falsetto and crunk club grooves. Even though nothing ever goes as deep as the albumâ??s title might suggest, the sampled â??Making Love (Into the Night)â? works its bump-and-grind magic and â??Foolinâ?? Aroundâ? is a decent â??Burnâ? redo. Rapper/bi-of-the-moment Nicki Minaj springs â??Lil Freakâ? to life, but the disc is still remarkably flaccid for someone who always seems to have a hard-on.
By Chris Azzopardi