A traveling version of St. Petersburg, Russia's gay film festival, Side by Side, was banned in the Siberian city of Kemerovo on April 17 but was a big success April 15-18 in Novosibirsk.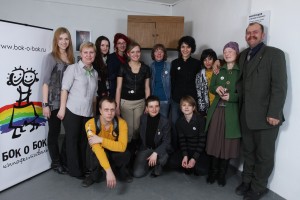 The Kemerovo festival was scheduled for April 17-19 at the city-owned Palace of Youth and the private Planet Cinema. But on the day the event was to begin, the city withdrew support for the festival and also pressured Planet Cinema to back out.
In addition, the director of the shopping center in which Planet Cinema is located received a telephoned threat that if any gay films were screened, electricity to the entire shopping center would be disrupted.
Local organizers Maria Shulaeva and Alexey Levin scrambled and found another location for the films, which, in the end, screened over three days.
In Novosibirsk, Russia's third-largest city, the scene was much different.
Some 700 people attended four days of movies, and the festival received support from local officials and media.
Vladimir Miller from the city's Department of Culture attended the opening events and declared, "We are building an open democratic society and are sympathetic to the theme of the festival."
The festival included Lida Mikhailova's "Coming Out of the Closet" photo exhibition, a lecture on early gay cinema in Germany, and three panel discussions — on gay parenting, LGBT rights and coming out.
By Rex Wockner