Although the 2003 consecration of openly gay and partnered New Hampshire Bishop Gene Robinson still threatens to implode the worldwide Anglican Communion, the U.S. Episcopal Church consecrated a second openly gay and partnered bishop on May 15.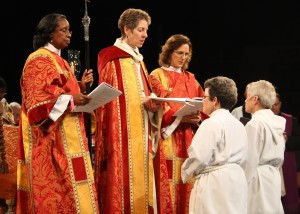 The Diocese of Los Angeles elevated the Rev. Canon Mary Glasspool to the position of suffragan bishop in a ceremony at the Long Beach Arena that was disrupted by two anti-gay protesters.
"The world's transformed only if we turn to each and every one of our brothers and sisters and see the face of Christ superimposed on them," said co-consecrator Bishop Jon Bruno of Los Angeles.
There are about 70,000 Episcopalians in the six-county Diocese of Los Angeles.
By Rex Wockner