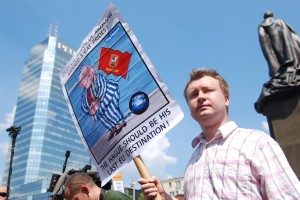 Fresh from his reported 2 1/2-day kidnapping by unidentified government
officials, Moscow gay leader Nikolai Alekseev, along with 10 other
activists, was arrested in Moscow Sept. 21 for staging an unauthorized
demonstration at City Hall against Mayor Yuri Luzhkov's strident
homophobia.
The demo, dubbed "Luzhkov Faggot," took place on Luzhkov's 74th birthday
and played off a recent court case in which gays unsuccessfully sued him
for defamation for having called gays "faggots" ("gomiki") on television.
The protesters were cited and released.
Alekseev has reported that he was abducted by unidentified government
agents Sept. 15 at Moscow's Domodedovo Airport. He said they drove him to
a police station two hours away, mocked and insulted him, called him
"faggot" and "pederast," probably drugged him via a glass of water, and
eventually presented him with a paper to sign that said an agreement had
been reached to drop his lawsuits at the European Court of Human Rights
over Luzhkov's repeated bans of gay pride parades.
Alekseev said he didn't sign it, "despite persistent 'advice' not to enter
into conflict with the authorities."
During the ordeal, someone used Alekseev's mobile phone to text false
information to the media, saying that Alekseev was in Belarus, had sought
political asylum there and was dropping his European court cases.
Alekseev was set free on the outskirts of the city of Tula early the
morning of Sept. 18, made his way to the city center and took a bus to
Moscow, he said.
He's planning to sue the airport, its security agents and Swiss
International Air Lines because he was in an "international" part of the
airport when he was seized and "illegally" forced back into Russian
territory.
By Rex Wockner