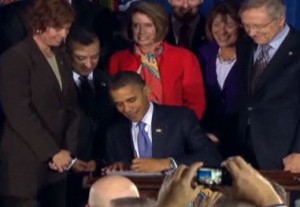 President Obama just signed the bill repealing the military's "Don't Ask, Don't Tell" law. While the stroke of Obama's pens will not immediately end the law, it begins the process of ending the ban on gays in the military. This is a process that could take several months or years.
About 500 lawmakers, Pentagon officials, gay-rights activists, military veterans, and other supporters of repealing the law attended the bill signing, according to the White House.
No matter what you think of the issue, it's a historic day.