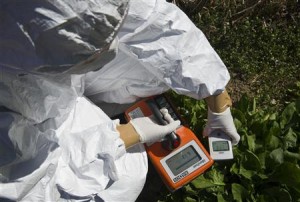 Japan's neighbors sounded increasingly alarmed over the risk of radiation from the crippled Fukushima nuclear power plant, while figures showed the number of foreign visitors to the country had slumped during what should be the peak tourism season.
The world's worst nuclear disaster in 25 years is also raising concerns over safety in the United States, which has more atomic reactors than any other country, especially at one plant which is similar to the one in Fukushima wrecked by last month's 9.0 magnitude earthquake and tsunami.
Engineers, who sealed a leak this week that had allowed highly radioactive water into the sea, are now pumping nitrogen into one reactor to prevent the risk of a hydrogen gas explosion.
Operator Tokyo Electric Power Co (TEPCO) said the chances of a repeat of the gas explosions that ripped through two reactors in the first days of the disaster were "extremely small."
But as engineers battle multiple crises — some the result of efforts to try to cool reactors — officials admit it could take months to bring the reactors under control and years to clear up the toxic mess left behind at the plant 240 km (150 miles) north of Tokyo.
"Data shows the reactors are in a stable condition, but we are not out of the woods yet," Chief Cabinet Secretary Yukio Edano told reporters.
The government has already set up a 20 km (12 miles) exclusion zone around the plant, banned fishing along much of the northeast coast and set up evacuation centers for the tens of thousands forced to leave their homes following the crisis.
An estimated 28,000 people were killed or are missing following the disaster.
China's health ministry said traces of radioactivity in spinach had been found in three provinces.
India earlier this week banned Japanese food imports for three months.
In South Korea, some schools closed because parents were worried that rain across the country could be toxic.
"We've sent out an official communication today that schools should try to refrain from outdoor activities," an education official in South Korea said.
South Korea's nuclear safety agency reported a small level of radioactive iodine and caesium particles in rain in the south but said it was not enough to be a public health concern.
Nevertheless, many Koreans donned face masks, and streets near schools in Seoul were more congested than usual as parents drove children to work rather than let them walk.
"We are geographically closer to Japan than others like the United States or Europe. We people are bound to be more worried," said President Lee Myung-bak, who has set up a ministerial task force to ensure public health and food safety.
CRITICISM
There has been repeated criticism of Japan for a lack of information of the crisis.
In Vienna on Wednesday evening, Japanese nuclear officials faced some tough questioning from other countries, diplomatic sources said. "People were asking pointed questions seeking information, the Russians were critical," one source said after the closed-door meeting, part of a conference scheduled long before the March 11 quake.
The source said a Russian official at the meeting had suggested there was a need for an improved emergency reaction.
Though Japan's capital is returning to normal almost four weeks after the crisis struck, foreign tourists are staying away. Many airlines have reduced flights to Japan.
This week is the peak of the cherry blossom season which normally attracts large numbers of tourists.
But government figures released on Thursday showed that compared to the same time a year ago the number of visitors since March 11 has tumbled 75 percent.
Japan's central bank highlighted the risks for an already fragile economy at the end of its two-day policy review.
"Japan's economy is under strong downward pressure, mainly on production, due to the earthquake," the Bank of Japan said after the review at which it kept interest rates unchanged and launched measures to help banks in the devastated northeast.
It also cut its economic assessment and warned of heightening uncertainty over the outlook, signaling it stood ready to ease monetary policy further as the nuclear safety crisis and rolling power blackouts hit output and business sentiment.
The government is discussing an emergency budget, expected to be around 4 trillion yen ($47 billion), to help with recovery and reconstruction but there is no agreement on how to raise money in a country where public debt is already nearly double the size of the economy.
SAFETY CONCERNS
In Vienna, the head of a U.N. scientific body said the Fukushima accident was not expected to have any serious impact on people's health, based on information he had.
Wolfgang Weiss, chairman of the United Nations Scientific Committee on the Effects of Atomic Radiation (UNSCEAR), said the Fukushima disaster was less dramatic than Chernobyl in 1986 but "much more serious" than Three Mile Island in the United States in 1979.
"We have seen traces of iodine in the air all over the world now but they are much, much, much lower than traces we have seen at similar distances after Chernobyl," he added.
In Washington, Democratic lawmakers raised concerns about whether regulators and the nuclear power industry were doing enough to ensure U.S. reactors could withstand worst-case scenarios in the wake of Japan's crisis.
Worries focused on a Pennsylvania nuclear plant with the same kind of reactor design as the Fukushima facility.
Some lawmakers argued that the U.S. plant could be at risk of meltdown in the case of a severe emergency.
But Martin Virgilio, a top official for the U.S. Nuclear Regulatory Commission (NRC), told a congressional hearing that the NRC did not believe that the core of Fukushima's reactor No. 2 had melted down.
Earlier, a Democratic lawmaker had said the NRC informed him the core had become so hot it had probably melted through the reactor pressure vessel.
The NRC is conducting special inspections at two Illinois nuclear plants operated by Exelon Corp after routine checks in February found a problem with backup pumps that would be used to remove heat from the reactors in case of an accident.
($1=85.475 Japanese yen)
By Kiyoshi Takenaka and Yoko Nishikawa
TOKYO (Reuters) – (Additional reporting by Mayumi Negishi in Tokyo, Sui-lee Wee in Beijing, Roberta Rampton and Ayesha Rascoe in Washington, Scott DiSavino in New York, Jack Kim in Seoul and Fredrick Dahl in Vienna; Writing by Jonathan Thatcher)