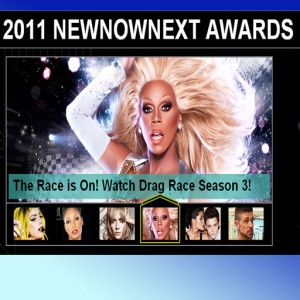 Logo's fourth annual "NewNowNext Awards" returned to Los Angeles last night in a live spectacle brimming with recent-breakthrough celebrities, pop culture phenomena and tomorrow's next big things, keeping Logo at the forefront of what's trending with today's "in" crowd.  Hosted by James Van Der Beek, the show honored Lady Gaga with the esteemed "Always Next, Forever Now Award" and featured musical performances by Robyn, Panic! at the Disco, Oh Land and Wynter Gordon. Logo's "NewNowNext Awards" 2011 premieres Monday, April 11 at 10/9C on Logo.
The "NewNowNext Awards" 2011 partied away at The Avalon in downtown Los Angeles last night led by Master of Ceremonies James Van Der Beek.  The show's irreverent and cutting-edge spirit immediately broke through with an opening performance paying tribute to New Kids on the Block and Backstreet Boys (nominees and winners of this year's "Best New Indulgence" category) performed by the drag queens of "RuPaul's Drag Race" as the "Backstreet Girls" and "New Queens on the Block."  The evening continued to provide the audience with the important "musts" of all award shows: sex appeal and glamour from Joe Manganiello and Carmen Electra, appearances by music superheroes including Adam Lambert and shocking moments from Ross Matthews and Perez Hilton .
Additionally, the live performances were a major highlight of the night.  Keeping the crowd jumping and a balcony of over 300 fans screaming were live performances by Panic! At The Disco ("The Ballad of Mona Lisa"), Wynter Gordon ("Dirty Talk"), Oh Land ("Sun of a Gun") and Robyn (who performed her new single "Call Your Girlfriend").
The evening reached its most anticipated moment with Lady Gaga receiving the "Always Next, Forever Now" award presented by past recipient Paula Abdul. Lady Gaga received the award remotely.
This show featured presenters including by Adam Lambert, Paula Abdul, Carmen Electra, Joey McIntyre (New Kids on the Block), A.J. McLean (Backstreet Boys), Jonathan Knight (New Kids on the Block), Brittany Snow ("Harry's Law"), Busy Phillips ("Cougar Town"), Perez Hilton, Aubrey O'Day ("All About Aubrey"), Keegan Allen and Torry DeVitto ("Pretty Little Liars"), RuPaul, George Kotsiopolous ("Fashion Police"), Kim Coles, Lisa Lampanelli, Sara Rue ("Shedding for the Wedding"), Gretchen Rossi ("The Real Housewives of Orange County"), Lisa Vanderpump ("The Real Housewives of Beverly Hills") and Josh Kilmer-Purcell and Brent Ridge ("The Fabulous Beekman Boys").
Special appearances from the evening included: Johnny Weir, RuPaul, guest DJ and recording artists Neon Hitch, the queens of "RuPaul's Drag Race," Jessica & Hunter and Drew Droege ("Chloe").
For a full list of the categories and nominees, please review the list of winners below.
"NewNowNext Awards" is Executive Produced by Christopher Willey and Dave Mace for Logo.  Michael Dempsey of Dempsey Productions serves as Executive Producer and Director.
For more information, visit NewNowNext.com.
Source – PR Newswire