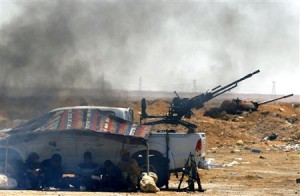 U.S. fighter jets have continued to conduct strikes on Muammar Gaddafi's air defenses even after NATO took over command of Libya operations, the Pentagon said on Wednesday.
But the U.S. military reiterated that Washington remains in a support role in Libya even as NATO nations squabbled publicly over stepping up air strikes.
Colonel David Lapan, a Pentagon spokesman, said an unspecified number of U.S. fighter aircraft had been put under NATO command as part of the operation to suppress Libyan air defenses, and had been striking Libyan targets.
The strikes have followed the complete U.S. transfer of command of coalition operations in Libya to NATO on April 4.
"We do have fighter aircraft, that NATO has, that they can use … for suppression of enemy air defense missions. And they have conducted some of those missions," Lapan told reporters at the Pentagon.
Grappling with conflicts in Iraq and Afghanistan, the Obama administration has been seeking to limit its role in Libya, where poorly organized rebels have so far failed to eject Gaddafi from power.
U.S. officials have stressed that after its initial leadership of the air campaign in Libya, the United States has moved to a support role focused on aerial surveillance and refueling. Lapan said the United States remained in a support role despite Wednesday's disclosure.
"Having a few aircraft providing this strike capability on a (limited) basis doesn't change that," he said.
Lapan stressed that U.S. aircraft would not conduct air strikes aimed specifically at protecting civilians without first receiving a request from NATO. NATO has not put forward such a request.
The comments came as world powers meeting on Libya's future called for the first time for Gaddafi to step aside, but divisions have emerged over how to achieve that political goal in Libya.
Britain and France have called for greater participation in the NATO air campaign against Gaddafi's heavy weapons and on arming the rebels.
WASHINGTON (Reuters) -(Reporting by Phil Stewart and Missy Ryan; editing by Eric Beech)