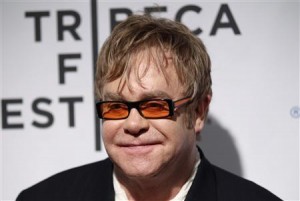 Paying tribute to his piano-playing idol Leon Russell, Elton John opened the Tribeca Film Festival on Wednesday with a free outdoor performance and film premiere about the making of his album, "The Union."
The 64-year-old British singer belted out six songs, including several that appeared on the 2010 critically acclaimed album he collaborated on with fellow singer-songwriter Russell, at the opening of the 10th Tribeca Film Festival in New York that runs until May 1.
The opening night documentary, also called "The Union," by director Cameron Crowe, was shown to an audience of several thousand people in the downtown area of Manhattan where the film festival was founded in order to revive the area after the September 11 2001 attacks.
"He's got the accolades that he deserves and I am so proud of him," John told the crowd before playing two songs, including "Never Too Old (to Hold Somebody)," which he made with Russell, whose musical abilities as a composer and piano player inspired John before he became a hit-making world sensation.
The film shows John and Russell reuniting after having not spoken in 38 years and gives a behind-the-scenes glance at the writing and recording of the collaboration between John, John's lyricist Bernie Taupin and Russell for the album that was released last year and debuted at No. 3 in the Billboard 200.
It also flashes back to old footage of both musicians in the early 1970s, snippets of guest musicians on "The Union" such as Brian Wilson and various sequences of John hailing Russell, now 69, as the greatest piano player that ever influenced him and crying when Russell composes "In the Hands of Angels" off "The Union."
John told Reuters on the red carpet that the film was Crowe's idea, and his style was "uninvasive. You know, you don't notice him there after awhile, he's got a knack of kind of appearing behind plants and things like that."
Russell and Crowe, who made the fiction rock film "Almost Famous," did not attend the event. The "Jerry Maguire" and "Vanilla Sky" director also has a Pearl Jam documentary due out this year.
"The Union" is one of 15 music-themed feature films showing at Tribeca. Cinematic accounts of Kings of Leon, rocker Ozzy Osbourne and South African singer Miriam Makeba will also screen.
The opening night marked a change for the festival, one of the most prominent in the United States, after recent years in which Tribeca featured an uptown glitzy private premiere with feature fiction films like last year's "Shrek Forever After."
This year more than 5,000 films were submitted, resulting in 93 feature films, which include 41 documentaries and 52 narrative fiction films. Festival attendees will include Julia Roberts, Will Ferrell, Martin Scorsese, Orlando Bloom, Jeremy Piven and Ryan Phillippe.
NEW YORK (Reuters) – By Christine Kearney
(Editing by Sandra Maler)