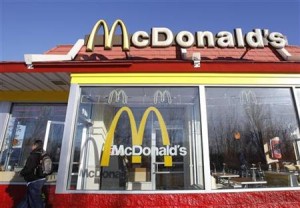 McDonald's Corp said higher costs for beef, bread and other items cut into its quarterly margins and that inflation for the year would be worse than expected.
The inflation comments on Thursday sent shares of the world's largest restaurant company down 2 percent, even though strong sales helped McDonald's post a first-quarter profit that beat expectations. March sales at established restaurants also rose more than expected.
"The key question now will be how they are going to raise prices to try to offset some of these food costs," Edward Jones analyst Jack Russo said.
McDonald's said it now expects food costs to rise between 4 percent and 4.5 percent in the United States and Europe this year. In January, McDonald's said it expected its food costs to be 2 percent to 2.5 percent higher this year in the United States and up between 3.5 percent and 4.5 percent in Europe.
McDonald's has been outperforming most other U.S. restaurant chains and taking market share from smaller rivals amid a slow U.S. economic recovery.
After struggling during the recession, McDonald's has outperformed its fast-food peers by updating its menu. The company pointed to its McCafe menu as a source of sales gains.
"The bottom line is they're still doing a great job of growing revenue," said Peter Jankovskis, co-chief investment officer at Oakbrook Investments in Lisle, Illinois. The firm owns McDonald's shares.
Analysts remain concerned about high gas prices that could prompt fast-food restaurant patrons to cut back. But Jankovskis said McDonald's was better equipped than others to cope with those prices. The company has more locations than its rivals, so customers do not have to travel far to get to one.
"The big test will come in the summer months with gasoline remaining in the neighborhood of $4.00 (a gallon) — that's when the strength of McDonald's will come through," he said.
McDonald's results come a day after rival Yum Brands Inc reported better-than-expected sales due to strength in China. Chipotle Mexican Grill , which has nearly all of its 1,100 restaurants in the United States, saw higher food costs eat into margins. (http://graphics.thomsonreuters.com/11/04/US_MCDYUM0411_SC.gif)
Total revenue at the Golden Arches during the first quarter that ended March 31, rose 9 percent to $6.1 billion, with sales in Europe leading the way.
March sales at restaurants open at least 13 months were up 3 percent in the United States, up 4.9 percent in Europe and gained 0.5 percent in McDonald's Asia/Pacific, Middle East and Africa unit. Globally they rose 3.6 percent.
Analysts, on average, were looking for same-restaurant sales to rise almost 2 percent in the United States, more than 3 percent in Europe and 2 percent in APMEA. Sales in Asia may have been pinched by the disasters in Japan.
The United States contributes just over one-third of McDonald's overall revenue, compared with 40 percent for Europe — its largest market for sales and one where it has more middle-class appeal.
First-quarter net income rose 10.9 percent to $1.21 billion, or $1.15 per share, from $1.09 billion, or $1 per share, a year earlier. That beat Wall Street expectations of a profit of $1.14 per share, according to Thomson Reuters I/B/E/S.
But operating margin fell to 17.7 percent from 18.2 percent as costs for food and paper rose. Food and paper costs were 33.6 percent of sales in the quarter, compared with 32.9 percent a year earlier.
McDonald's shares fell 1.9 percent, or $1.56, TO $76.84 in morning New York Stock Exchange trading.
NEW YORK/LOS ANGELES (Reuters) – By Phil Wahba and Lisa Baertlein
(Reporting by Phil Wahba and Lisa Baertlein; Editing by Maureen Bavdek)