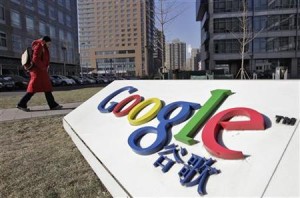 China's massive internet market should not be singled out and treated differently from other internet markets in the world, a Google China executive said on Tuesday.
Google, which partially pulled out of China last year after a tussle with the government over censorship and a serious hacking episode, has suffered market share losses in the world's largest Internet market by users since then.
The firm entered China in 2006 after making concessions to China to self-censor politically sensitive keywords from its search results. In January last year, Google said it will stop censoring results.
"China should be part of the (global) market, why single out one market and say that things should be different," John Liu, Google's Global Vice President of Greater China Sales and Operations told an industry gathering.
Foreign Internet firms have struggled to find success in China as opaque and shifting Internet regulations confounded executives. Google was steadily gaining market share on home-grown search engine Baidu Inc before it dropped the bombshell announcement in January.
China says it needs to censor the Internet in order to maintain social stability.
Liu, who affirmed a bullish outlook for China, said there was no change in attitude toward China since Google's co-founder Larry Page became its new chief executive earlier this year.
In the first-quarter, Google had about 19 percent of China's search market by revenue while Baidu had 75 percent, according to data from Analysys International.
BEIJING (Reuters) – (Reporting by Melanie Lee; Editing by Jon Loades-Carter)