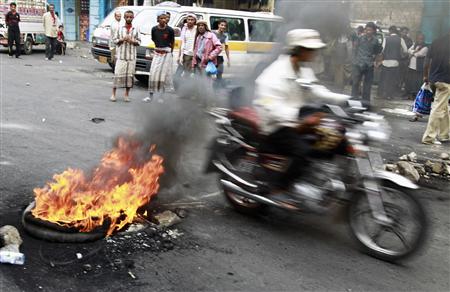 Renewed fighting in
Yemen
's capital between a powerful tribal group and President
Ali Abdullah
Saleh forces this week has killed at least 19 people and rocked
Sanaa
with explosions, officials said on Wednesday.Global powers have been pressing Saleh to sign a Gulf-led deal to end his three-decade rule and stem spreading chaos in unstable
Yemen
, a haven for al Qaeda militants and neighbor to the world's biggest oil exporter,
Saudi Arabia
. 
Kuwait, a member of the Gulf Cooperation Council that tried unsuccessfully to broker a power transfer deal, said it had evacuated its diplomatic staff from Yemen. Qatar, another GCC member, has also suspended most operations there.
Witnesses said they heard several blasts but were not sure of the cause or the damage near the Hasaba district — the focal point of fighting last week that killed at least 115 people and pushed the country closer to civil war.
"There are very powerful explosions. Sounds like missiles or mortars. May God protect us," a Hasaba resident said.
This week, there have been three main flashpoints in the country — the fighting in the capital, government troops gunning down protesters in Taiz in the south and a battle with al Qaeda and Islamic militants in the coastal city of Zinjibar.
Residents also reported overnight fighting near Sanaa airport, which was closed briefly last week during skirmishes between Saleh's forces and opponents within the powerful Hashed tribal confederation, who are led by Sadeq al-Ahmar.
Fourteen soldiers were killed in overnight fighting with the tribesmen, the Defense Ministry website said.
Medical officials told Reuters at least five other people had been killed in the recent fighting, which may have entered a new phase with some troops in armored vehicles joining the opposition, suggesting more military defections from Saleh.
"UNLIKELY TO SURVIVE"
Some military leaders broke away from Saleh in March after his troops fired on protesters calling for an end to his 33-year-old rule. Yemen is on the brink of financial ruin, with about a third of its 23 million people facing chronic hunger.
The political risk consultancy Eurasia Group said in a report the most likely outcome is that Saleh leaves through a political deal he brokers from a position of weakness, or is ousted by force by breakaway military units and tribal leaders.
"Saleh is unlikely to survive 2011 as president of Yemen; however the likelihood of a managed transition is decreasing, and an attempt to forcibly oust Saleh from power is becoming more likely," the report said.
"Saleh leaving power early does not result in a functional Yemeni state that can reassert control over the country in the short term," it added.
The president's close relatives, who control Yemen's most lucrative sources of revenue and state assets, are pressuring him not to give up power, a diplomatic source told Reuters.
Omani authorities were trying to tighten a long and porous border between Yemen and Oman to halt any refugee inflow, an Omani Foreign Ministry official told Reuters.
Yemen is awash with weaponry and corruption and racked by a secessionist movement in the south, a Shi'ite insurrection in the north and a growing al Qaeda presence in the center. About 40 percent of its people live on less than $2 a day.
Saleh has exasperated his rich Gulf Arab neighbors by three times agreeing to step down, only to renege at the last minute.
He drew the ire of U.N. Secretary-General Ban Ki-moon after his troops fired on protesters in the city of Taiz, about 200 kms (120 miles) south of the capital. The chief U.N. human rights envoy said her office was investigating reports that at least 50 people have been killed there since Sunday.
Analysts are worried that instability in Yemen, sitting on a shipping lane that carries about 3 million barrels of oil a day, could embolden a local al Qaeda wing which has attempted attacks on the United States and Saudi Arabia.
Locals and Yemeni troops have been fighting to recapture the coastal city of Zinjibar, which was taken over by several hundred al Qaeda and Islamist militants at the weekend.
Six soldiers and four gunmen were killed in clashes in two areas near Zinjibar, a local security official said.
Residents said parts of the city were hit by artillery and missiles as troops tried to push out militants.

SANAA (Reuters) – By Mohamed Sudam and Mohammed Ghobari(Reporting by Mohammed Mukhashaf in Aden, Khaled al-Mahdi in Taiz, Sara Anabtawi and Firouz Sedarat in Dubai, Eman Goma in Kuwait and Saleh al-Shaibani in Muscat; writing by Jon Herskovitz; editing by Alistair Lyon).