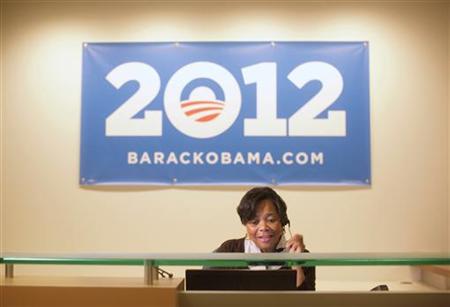 President
Barack Obama
's campaign on Wednesday set a goal of raising $60 million in the quarter to benefit Obama's reelection and the
Democratic National Committee
, a source involved in the reelection campaign said.Dozens of
Democratic Party
operatives and supporters from across the country assembled in a downtown hotel on Wednesday for an early fundraising strategy session.
The group, which was to include White House Chief of Staff Bill Daley and former Director of the White House National Economic Council Lawrence Summers, laid out their early strategy for raising more than $750 million to reelect the Democratic incumbent.
"There was talk about why the President deserves to be reelected and why it is important for us to make that happen," said a long-time Obama supporter who attended the meetings.
Campaign Manager Jim Messina made public part of their strategy in an email message to supporters on Wednesday.
"We decided we're ready to give for a second or third time — if and only if you're willing to make your first donation to the campaign right now," the message said. "Right now there are thousands of folks willing to match whatever amount you decide to give," the message read.
The strategy follows the campaign's grassroots style, Messina said, adding that he recognizes easier paths to raking in campaign cash.
"Taking money from Washington lobbyists or special-interest PACs is the easy path — and every single one of our prospective opponents is racing down it. That's not the kind of race we want to run."
Other fundraising meetings were held on Wednesday by Deputy Campaign Manager Julianna Smoot and Rufus Gifford, the Obama 2012 Finance Chairman.
Other top Chicago Obama supporters and fundraisers were in attendance, including real estate executive Penny Pritzker, who led fundraising for Obama in 2008, and her 2012 replacement, former Ambassador to Sweden Matthew Barzun.
Republican White House hopeful Mitt Romney, the former Massachusetts governor, will formally announce on Thursday that he is in the race for the Republican Party's nomination in 2012. He tops many national polls among Republican candidates and has a solid fund-raising operation that raised $10 million in a single day in May.
CHICAGO (Reuters) – By Eric Johnson(Editing by Greg McCune)