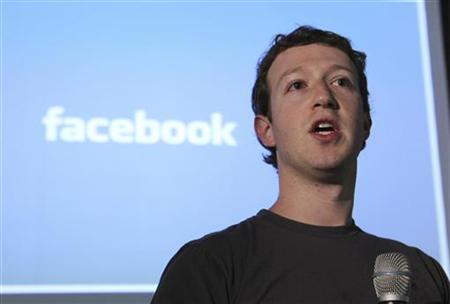 An alleged contract and emails that a
New York
man says entitle him to a huge stake in Facebook are forgeries, the online social network's founder
Mark Zuckerberg
said.In a filing in the
U.S. District Court
in
Buffalo
,
New York
, on Thursday, Zuckerberg said he has declared under oath that he neither signed the alleged contract with
Paul
Ceglia, nor wrote or received any related emails.
He asked a federal judge to order Ceglia to immediately turn over the alleged original contract and emails, and for permission to inspect Ceglia's computers.
"Zuckerberg and Ceglia never discussed Facebook and they never signed a contract concerning Facebook," the filing said. "The contract is a cut-and-paste job, the emails are complete fabrications, and this entire lawsuit is a fraud."
In a statement, Ceglia's law firms said their client "disagrees with the opinions within the filing, which have been made by those who have not examined the actual contract at issue in this case or any of the other relevant evidence."
The law firms include DLA Piper in New York and Lippes Mathias Wexler Friedman in Buffalo, court records show.
Ceglia, a wood pellet salesman from Wellsville, New York, is trying to show he contracted in 2003 for 50 percent of Zuckerberg's interest in what became Facebook, which is privately held.
Forbes magazine in March estimated Zuckerberg's net worth at $13.5 billion. Analysts have said Facebook could be worth $70 billion should it go public, perhaps in 2012.
In Thursday's filing, Zuckerberg acknowledged signing a contract in April 2003 with Ceglia, but that it concerned work Zuckerberg had done for StreetFax.com, a website that posted photographs of traffic intersections for use in the insurance industry.
Ceglia provided the contract after Zuckerberg, then a freshman at Harvard University, had responded to an online job listing for StreetFax, the filing said.
Zuckerberg hopes to use forensic testing on Ceglia's documentation. "When this testing confirms that all of these documents are forgeries, this lawsuit will end," he said.
EMAILS IN QUESTION
In his amended complaint filed on April 11, Ceglia had discussed the alleged Facebook contract and emails from 2003 and 2004.
He said once such alleged email, dated February 2, 2004, showed Zuckerberg appearing to resist a clause that could have given Ceglia a stake greater than 80 percent, and instead suggested "that we officially return to 50/50 ownership."
Zuckerberg said forensic examiners reviewed his Harvard email account and found none of the alleged emails.
He also made reference in Thursday's filing to prior run-ins by Ceglia with law enforcement, including an instance in 2009 when New York Attorney General Andrew Cuomo accused Ceglia of fraud and shut his business.
Separately, Cameron and Tyler Winklevoss are appealing to the U.S. Supreme Court a ruling that upheld their $65 million settlement with Facebook, which they accused of stealing their idea for the website. The twin brothers have said they were shortchanged in the 2008 accord.
The case is Ceglia v. Zuckerberg et al, U.S. District Court, Western District of New York, No. 10-00569.
NEW YORK (Reuters) – By Jonathan Stempel(Reporting by Jonathan Stempel. Editing by Maureen Bavdek and Robert MacMillan, Carol Bishopric and Richard Chang)