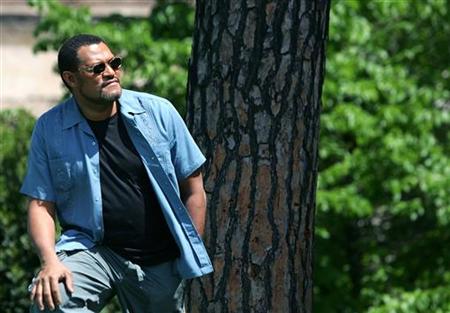 Laurence Fishburne is leaving his starring role on TV forensic investigation drama "CSI: Crime Scene Investigation" after a little more than two seasons, Hollywood publications reported on Wednesday.
Fishburne, 49, who plays former pathologist Dr. Raymond Langston on the worldwide hit, has opted not to renew his contract when the show returns in September for its 12th season, said Deadline Hollywood and The Hollywood Reporter.
The Emmy- and Tony award-winning actor joined the cast in the middle of the 2008-09 season as a replacement for original headliner William Peterson.
Once the biggest show on television, "CSI" ranked No. 10 last season with 13 million viewers in the United States, down from 17.6 million for the first episode since Petersen's departure. Its producers gave Fishburne's character a wardrobe make-over in 2009, dropping his glasses and suits look for more casual clothing that they hoped would appeal more to viewers.
CBS, which broadcasts the show in the United States, has yet to announce who will take Fishburne's place.
Deadline Hollywood said Fishburne is expected to resume his movie career full time. The "Matrix" actor returns to theaters in October with the thriller "Contagion."
The "CSI" franchise, rounded out by spinoffs "CSI: Miami" and "CSI: New York," is one of the best-selling American television exports, licensed in more than 200 countries. In 2010, "CSI" won the international television drama series award in Monte Carlo for the third time.
LOS ANGELES (Reuters) -  (Reporting by Jill Serjeant; editing by Dean Goodman)