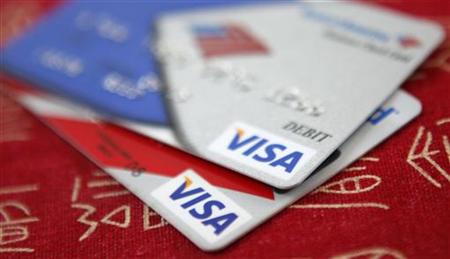 VISA Inc said it will acquire South African firm Fundamo for $110 million, and announced a five-year agreement with UK-based Monitise Plc, as it looks to grow its new technology-enabled payments business.
Payment processors — such as Visa and rival Mastercard — have been increasingly looking for growth through new gateways, including mobile phones and the Internet, faced with a saturated U.S. market for credit and debit cards.
Competition in the sector is heating up with telephone companies, bank majors and technology giants jostling for a piece of the pie. Last month, Google Inc, Citigroup, and Mastercard came together to enter the pay-by-phone system.
The Fundamo acquisition will help Visa, which operates the world's largest credit and debit card processing network, grow its mobile phone-based payment services in developing markets across Africa, Asia and Latin America.
It said the deal would hurt its earnings per share slightly for the year ending September 2011.
Fundamo Chief Executive Hannes van Rensburg and the its management team will continue with the company.
The deal with Monitise will help Visa expand the delivery of mobile financial services to its account holders both in the U.S. and outside.
With the agreement — under which Monitise would get minimum annualized revenues of more than $10 million in the first three years, and potentially more in the last two — Visa furthers its ties with the company.
It already owns about 14 percent of Monitise according to Thomson Reuters Data, and has a joint venture with it to develop mobile banking technology for the fast-growing Indian market.
Visa's shares closed at $76.71 on Wednesday on the New York Stock Exchange.
Shares of Monitise were up almost 7 percent at 27.95 pence at 1220 GMT on Thursday on the London Stock Exchange.
(Reuters) -   (Reporting by Jochelle Mendonca in Bangalore; Editing by Joyjeet Das)