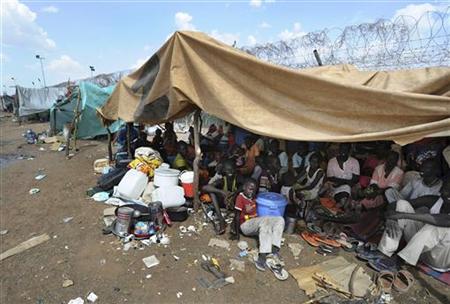 President Barack Obama on Wednesday urged Sudan's government to halt military operations in a troubled border state and called for a ceasefire in bloody fighting as the south prepares to secede next month.
"There is no military solution," Obama said, appealing directly to leaders on both sides, in an audio message issued through the government-funded Voice of America network.
The northern military has been fighting southern-aligned armed groups in Southern Kordofan — the north's main oil state which borders south Sudan — in recent weeks, raising tensions as the south prepares for independence on July 9.
Air strikes on Southern Kordofan, which is home to many fighters who sided with the south against Khartoum during the last civil war, may have killed as many as 64 people and caused tens of thousands to flee, the United Nations said.
"The leaders of Sudan and South Sudan must live up to their responsibilities," Obama said. "The government of Sudan must prevent a further escalation of this crisis by ceasing its military actions immediately, including aerial bombardments, forced displacements and campaigns of intimidation."
The south's main party has said the northern army sparked the fighting by trying to disarm southern-aligned fighters in the region ahead of the split. The north has accused the fighters of starting the conflict.
Southerners voted to secede in a January referendum that was promised in a 2005 peace deal that ended decades of north-south civil war. That conflict killed 2 million people. The formal split has been complicated by disputes over where to draw the common border and how to divide oil revenues.
Obama called on both sides to end the violence and allow free movement of aid workers and supplies. "I want to speak directly to Sudanese leaders: you must know that if you fulfill your obligations and choose peace, the United States will take the steps we have pledged toward normal relations," he said.
"However, those who flout their international obligations will face more pressure and isolation and they will be held accountable for their actions."
Washington has offered Khartoum incentives for an orderly transition, including gradual steps toward full normalization of diplomatic ties, the removal of Sudan from the U.S. terrorism blacklist and an international deal on debt relief.
WASHINGTON (Reuters) -  (Reporting by Matt Spetalnick; Editing by Doina Chiacu and Bill Trott)