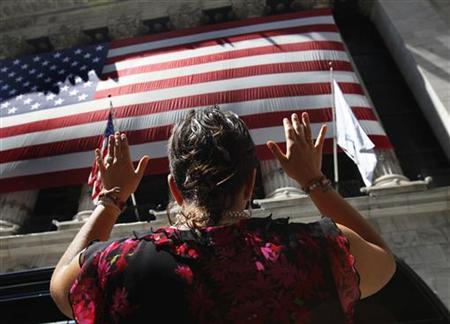 America
is on the fritz.
From Times Square
to
St. Petersburg
,
Florida
, and
Portland
,
Oregon
, people are trying to understand how the downgrading of
America
's AAA credit rating by Standard and Poor's agency caused a stock market crash and torpedoed their economic prospects so badly again.
Out of work, unable to sell their homes and with bills piling up, many wonder how they will make ends meet.
"My fridge is on the fritz, my washing machine is on the fritz, my oven is on the fritz, my roof is on the fritz," said Maria Thuy of Jenkintown a suburb of Philadelphia, who lost her job as a director of a non-profit a few weeks ago and wonders how she will stop her house falling down around her.
Like many, Thuy looked on in horror as the stock market crashed on Monday and she fears for her retirement savings.
Barbara Barak, 32, has a job selling cosmetics in an Orlando, Florida mall. But working largely on commission and with business "nonexistent," she may resign.
"People are afraid to spend money," she said.
Since her husband lost his steel industry job at the start of the 2008 recession and took a job with an ice cream maker, their annual income has fallen by $50,000. She could care less about the stock market because she has no savings.
Her financial plan? "Just survive."
On Monday, panicked selling resulted in the S&P 500's worst day since December 2008, down more than 6 percent with every stock in the benchmark index ending in negative territory.
PSYCHOLOGICAL IMPACT
Concern that Washington can't control rising debts or create enough jobs to spur growth contributed to the crash as did the loss of America's pristine AAA credit rating. Rising fears about Europe's debt woes made matters worse.
The S&P 500 is down 17.9 percent from its late April peak.
Consumer spending makes up about 70 percent of the U.S. economy and economists fear steep stock declines will have a psychological impact on households, causing them to cut spending, and force businesses to defer hiring and spending.
Miami store clerk Antonio del Valle said he blamed former President George W. Bush for the current woes. "If he hadn't wasted all that money on the wars in Iraq and Afghanistan, we wouldn't be discussing the debt ceiling," he said.
A decade of war in Afghanistan and eight years in Iraq have hurt the national budget and the 2008 financial crisis, with its resulting bailouts to stop a global financial collapse, led to less aid flowing from Washington to U.S. states.
As a result, working Americans were squeezed as U.S. states and municipalities hiked charges on everything from water to property taxes. Meanwhile, with inflation low and unemployment high, employers cut jobs, kept pay raises to a minimum and passed on soaring health insurance costs to employees.
Sammy Rubin, a 64-year-old electrical contractor in Birmingham, Alabama, blames politicians. A self-described conservative, he said he was angry at recent political fighting over the debt ceiling.
"If I had the power, I would freeze every congressman's bank account … and make them go get a job, to see what it's like out here. And I wouldn't care if the whole government shut down, except for the military," he said.
The debt debate in Congress has strengthened the case of those who think the two-party system is failing. According to a CNN poll last week, 77 percent of Americans say that elected officials in Washington have behaved "like spoiled children" in the tug-of-war over raising the debt ceiling.
Josh Greenwood, a 24-year-old, who moved from California to New York and is working as a bartender, urged President Barack Obama to end partisan fighting in Washington.
"Obama needs to use his power and influence to get everyone on the same page," he said.
Susan Knight-Allen, a 55 year-old medical social worker, was getting her hair cut at a salon in the Hollywood neighborhood of Portland, Oregon.
"Maybe this time it is not going to correct," she said of the stock market. She and her partner put their money into cash two years ago and now she wonders if she can help, perhaps by getting some backyard work done.
"We have the money and somebody could probably really use that job," she said.
"HANGING ON"
Rachelle Markley, 48, worked at her nearby store Second Glance Books. The second-hand book store is cozy but, she says, "I am hanging on by the skin of my teeth."
As well as a weak economy, her business is suffering as sales shift to e-books. After an employee left in January, she left the job unfilled, leaving her overworked and alone.
Antoine Sykes, a 37-year-old security officer and doorman on Chicago's west side said he fears for his financial security and plans to save what he can, but doesn't trust the banks. "I'm leaving it under my bed or in my grandmother's closet."
Matthew Tavares, 43, and his wife Julia, 31, want to sell their home in the beach community of Marshfield, south of Boston. On the market for a year already, they worry they will have to drop the price more to sell it and will have to use their savings to cover their eventual losses.
The country's latest financial woes have also compounded the concerns of 51-year-old Harry Crown, a commercial painter in St. Petersburg, Florida. He says he lives paycheck to paycheck and expects to get laid off soon due to lack of work.
"It's scary," said Crown, nursing a pitcher of Miller beer at a bar. "You can't get ahead. You live to survive."
Another customer, 65-year-old Roger Dyke agreed. "The country's in a mess," he said. "I don't know any way of fixing it."
NEW YORK (Reuters) – By Mark Egan(Reporting by Barbara Liston in Orlando, Manuel Rueda in Miami, Peggy Gargis in Birmingham, Alabama, Eunju Lie in Chicago, Lauren Keiper in Boston, Dave Warner in Philadelphia, Colleen Jenkins in St. Petersburg, Teresa Carson in Portland, Paula Rogo in New York; Editing by Cynthia Osterman)