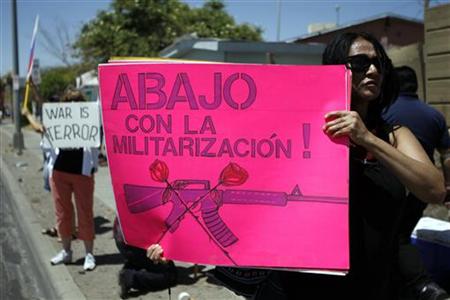 Nearly 250 new immigration laws and resolutions were enacted in 40 states during the first half of 2011 indicating a growing frustration with the
federal government
's handling of the issue, according to a new report.The laws range from hiring restrictions to voter identification and allowing in-state tuition for illegal immigrants, according to the report released Tuesday by the National Conference of State Legislatures.
The numbers show a slight decrease in activity from last year, but every state and Puerto Rico proposed legislation dealing on the issue in the first six months of 2011.
By comparison, only 38 immigration laws were enacted by states in 2005.
"States are reacting to federal government in inefficiency and they're trying to figure out how to deal with it — good, bad and ugly," said Wendy Sefsaf, director of communications at the American Immigration Council, a Washington-based think tank.
"Immigration impacts every policy issue there is, and people are trying to figure out how to manage it, for better or for worse, because the federal government won't."
Among the findings in the report, released during the council's annual meeting in San Antonio:
** 14 states included funding for immigration initiatives in their budgets.
** Governors vetoed 12 pieces of legislation, including bills related to social services and immigration.
** Ten states enacted legislation requiring businesses or contractors to use the government E-Verify program to ensure the legal status of workers.
** Five states — Alabama, Georgia, Utah, Indiana and South Carolina — enacted omnibus laws inspired by Arizona's 2010 law, which gave police the power to enforce immigration. All have been challenged in court.
** 19 states passed 38 laws addressing law enforcement.
** Georgia, Kansas, Texas, and Vermont created or strengthened state human trafficking laws.
** Three states – Alabama, Kansas and Utah – passed voter ID bills dealing with immigration.
** Two states, Maryland and Connecticut, passed bills allowing in-state college tuition for eligible illegal immigrants, bringing the number allowing it to 12 states.
Other legislation social services, housing assistance, and resolutions asking President Barack Obama or Congress to pass a comprehensive federal law on immigration.
In the nation's second most populous state of Texas, a bill banning "sanctuary cities" for immigrants died in the legislature despite being pushed by Republican Governor Rick Perry, who may run for president.
Some Democrats blamed the federal government immigration stalemate on Republicans, who took over control of the House of Representatives this year.
"It's having a hugely detrimental effect on the Hispanic community because you're punishing family and maybe deporting family members," said Jessica Farrar, chair of the Democratic immigration caucus in the Texas House.
But conservatives said the states have a right to pursue their own solutions.
"There has been a shocking lack of willingness to talk about this issue from our current administration," said Chris Elam, spokesman for the Republican Party of Texas. "I definitely believe the states are stepping up to the plate to address the problem, and that's totally permissible.
AUSTIN, Texas (Reuters) – By Karen Brooks(Editing by Greg McCune)