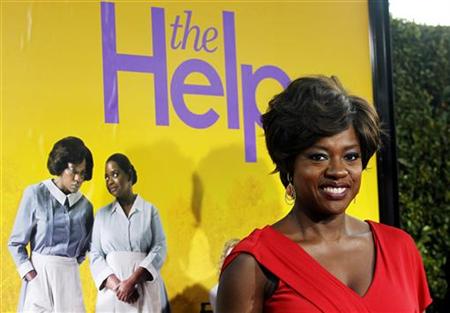 The maids of "The Help" proved far mightier than muscle-flexing "Conan the Barbarian" and three other new releases at the weekend box office, taking the top spot with an estimated $20.5 million in U.S. and Canadian ticket sales."The Help" rose from its second-place finish last week to the top spot with rave reviews and strong word-of-mouth buzz, distributor Walt Disney Co said on Sunday. The drama chronicles the relationships between white women in
Mississippi
and their black housekeepers in the 1960s.
The movie's North American (U.S. and Canadian) receipts slipped 21 percent from its debut a week earlier, an impressive hold and more than enough to beat underwhelming performances from four new films. To date, "The Help" has beat expectations by ringing up a total of $71.8 million.
"We always hoped 'The Help' would be a breath of fresh air after a busy, sequel-filled, smash-'em-up summer. The way the public's embracing it indicates that is indeed the case," said Dave Hollis, executive vice president for motion picture sales and distribution at Disney.
Last weekend's box-office leader, sci-fi movie "Rise of the Planet of the Apes," fell to second place with a projected $16.3 million domestically during its third weekend of release. Total North American sales now stand at $133.8 million for the latest take on the classic tale about genetically enhanced chimps that launch a revolution.
Of the new releases, "Spy Kids: All the Time in the World," performed the best at No. 3 with $12 million, hitting the low end of forecasts. "Given the marketplace this weekend, I'm okay with that number," said Erik Lomis, president of distribution for The Weinstein Co, which released the film.
The fourth "Spy Kids" movie was presented in "4D," with scratch-and-sniff cards to add scents throughout, and was aimed at children ages 12 and younger. "It plays and it delivers to that audience," Lomis said.
Two remakes of 1980s films — "Conan the Barbarian" and "Fright Night" — fell flat.
"Conan the Barbarian," a reboot of the film that launched Arnold Schwarzenegger's career, was the No. 4 movie for the weekend with $10 million, short of forecasts in the low- to-mid teens. Jason Momoa, seen recently in HBO series "Game of Thrones," plays the lead role in the updated version.
"Overall, the weekend box office was disappointing" for new films, said David Spitz, head of domestic distribution for Lionsgate, which released "Conan the Barbarian."
"Fright Night," a remake of a popular 1985 horror film, finished fifth with $8.3 million, also below pre-release estimates. It stars Colin Farrell and Anton Yelchin and was targeted partly at young adults, an audience with "a finicky nature," said Disney's Hollis. Disney released "Fright Night" and "The Help," two films produced by DreamWorks.
"One Day," a new romance starring Anne Hathaway and Jim Sturgess, landed in the No.9 spot with $5.1 million at domestic theaters. Focus Features, a unit of Comcast Corp, released "One Day."
LOS ANGELES (Reuters) – By Lisa Richwine(Editing by Cynthia Osterman)