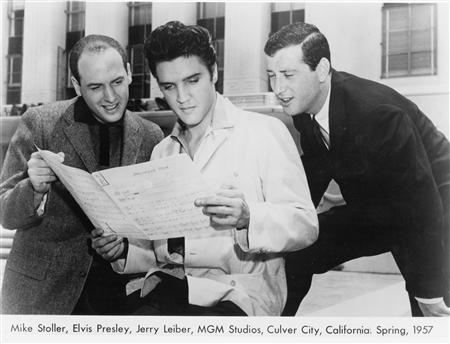 Celebrated lyricist
Jerry Leiber
, who partnered with composer
Mike Stoller
to write such iconic hits as "Hound Dog" and "Jailhouse Rock" and played a key role in the birth of rock 'n' roll, died on Monday at age 78.Leiber died at
Cedars-Sinai Medical Center in Los Angeles
of cardiopulmonary failure, said
Randy Poe
, president of his publishing company. Family members of the legendary songwriter were with him when he died, according to Leiber's assistant,
Marilyn Levy
.
Launching their collaboration as teenagers in the early 1950s, Leiber and Stoller went on to pen more than 200 tunes covered by such recording stars as Elvis Presley, Buddy Holly, the Beatles, the Rolling Stones, James Brown, B.B. King, the Drifters and Peggy Lee. Presley alone recorded over 20 Leiber and Stoller songs.
Leiber jokingly referred to their six-decade partnership, chronicled in the 2009 memoir "Hound Dog: The Leiber & Stoller Autobiography," as "the longest-running argument in show business."
"He was my friend, my buddy, my writing partner for 61 years," Stoller, 78, said in a statement released by their publicist. "He had a way with words. There was nobody better. I'm going to miss him."
Their songwriting credits included such rock 'n' roll classics as "Hound Dog," "Jailhouse Rock," "Kansas City," "Poison Ivy" and the hit "Stand By Me," which they co-wrote with singer Ben E. King.
Their big breakthrough, "Hound Dog," originally topped the "race" music charts as a rhythm and blues single by Willie Mae "Big Mamma" Thornton in 1953, three years before Presley turned a somewhat sanitized version into a rock 'n' roll classic.
The crossover success of "Hound Dog" and other songs they wrote and produced helped pave the way for a whole body of R&B music, initially performed by black stars and embraced by African American listeners, to gain popularity with broader audiences, much of it reinterpreted by white artists.
Those early hits also caught the attention of the landmark label Atlantic Records, which signed the pair to one of the recording industry's first independent production deals in 1955.
MET AS TEENS
Leiber was the lyricist in the duo, displaying his spicy wit on many songs, while Stoller composed the tunes. They were inducted into the Rock and Roll Hall of Fame in 1987 for their role as pioneers of the musical genre they helped popularize.
In addition to their formative influence on Presley, they helped ignite the career of the Coasters by writing and producing playful hits for the doo-wop act, including "Yakety Yak," "Charlie Brown" and "Along Came Jones."
Leiber, the son of Jewish immigrants from Poland, was born and raised in Baltimore, Maryland, and moved with his family as a teenager to Los Angeles, where he met Stoller, also an East Coast native, in 1950 when they were both 17.
"When they wrote hound dog for 'Big Mama' Thornton, they had to have their contract co-signed by their parents," said longtime publicist, Bobbi Marcus.
The song came together when Leiber started beating a rhythm on the roof of Stoller's 1937 Plymouth with his right hand and tapped on the dashboard with his left.
"I kinda liked the beat and it felt good," Leiber later told Reuters. "I started yelling, 'You ain't nothing but a hound dog!' Mike said, 'I like that.'"
Leiber and Stoller could work quickly when they had to.
In a single day, they composed four songs that ended up on the soundtrack to the 1957 Presley movie "Jailhouse Rock" — the title track, its B-side single "Treat Me Nice," "I Want to be Free" and "(You're So Square) Baby I Don't Care."
"They wrote that in one afternoon under pressure from a (music) publisher who blocked their door with a sofa and laid on it until they gave him the music," Marcus said.
Aside from rock music, they also composed songs in other genres such as cabaret and jazz, working with the likes of crooner Frank Sinatra and the French songstress Edith Piaf, according to the website for their music publishing company.
Leiber is survived by his sons Jed, Oliver and Jake, said Levy, his assistant.

LOS ANGELES (Reuters) – By Alex Dobuzinskis and Steve Gorman(Additional reporting by Dean Goodman; Editing by Cynthia Johnston)