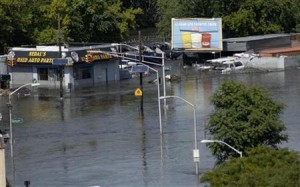 New Jersey
residents struggled with flooded homes, blocked roads and power outages on Wednesday as rivers and creeks overflowed following Hurricane Irene, and some areas were declared disaster zones.President
Barack Obama
signed a disaster declaration for five counties in the state, making residents of those storm-battered areas eligible for federal assistance.
Obama plans to visit Paterson, one of the hardest hit cities, on Sunday, the White House said. U.S. Department of Homeland Security Secretary Janet Napolitano and Federal Emergency Management Administrator Craig Fugate toured areas heavily damaged by Passaic River flooding on Wednesday.
Swollen rivers throughout northern New Jersey, including the Passaic, Ramapo, Rahway and Pequannock, have reached or surpassed record flood levels since the storm hit over the weekend, authorities said.
In Little Falls, about 20 miles west of New York City, the flooded streets were eerily quiet after many residents fled.
Police hung signs reading: "No Scavenging."
Cecilia Ginter, 82, said she has lived through dozens of floods in her 45 years in Little Falls. She said locals have complained about Passaic flooding but authorities had done little to address the problem.
"They don't do anything. Just study after study," she said. "It's getting to the point where people can't take it."
Ginter said she had hoped to move but has taken down a "For Sale" sign on her lawn.
"Who is going to buy this now?" she asked.
Sean Mathews of Little Falls said he could only wait for the flood to recede along Williams Street, where he owns a two-story house swamped in several feet of water.
Mathews, who installs sheet metal for a living, said he feared it could be weeks before FEMA assessors survey the damage, and said his neighbors worry that there will not be enough government money to help with repairs.
"If FEMA comes up with some story about being broke, people will just lose their minds," he said. "I would not be surprised to see rioting on this street."
RESIDENTS WORRY
About five miles north in Paterson, New Jersey's third-largest city, the Passaic was destroying parts of the city along its banks. Around 1,500 people who live near the river have been evacuated.
"It's raging right now," Police Sergeant Alex Popov said. "We've had to close streets we never had to close before."
From overhead, water could be seen covering much of Paterson's old industrial area, and two bridges were submerged along the roaring debris-filled river.
Highly impoverished, Paterson is home to many immigrants. Many now-closed factories in the once heavily industrial city were powered by the river's Great Falls, the second largest waterfall by volume on the East Coast.
Passaic County, where Paterson is located, will be eligible for federal assistance such as grants for temporary housing and home repairs, low-cost loans to cover uninsured property losses, and other recovery programs.
Other counties that will also be eligible are Bergen, Essex, Morris and Somerset.
Federal funding will also be made available to state and local governments and some private nonprofit organizations for emergency work and repairs in the counties of Atlantic, Cape May, Cumberland and Salem.
FEMA said more counties may be made eligible after damage assessments were completed.
Fewer than 20 miles south of Paterson, the Rahway River was flooded but far less ferocious in Maplewood. Residents of the upscale suburban town were busily bailing out their basements.
"This was not an earthquake and a tsunami. We're probably quite lucky," said Arthur Moorhead, 56, as he dumped ruined clothing and books into a garbage container and spread others on his lawn to dry.
"I've gotten rid of a lot," he said, "but frankly that's stuff we would have gotten rid of in any case."
About 190,000 homes and businesses remained without electricity.

LITTLE FALLS, New Jersey (Reuters) – By Paul Thomasch(Additional reporting by Brendan McDermid in Paterson, Grant McCool in Maplewood and Dave Warner in Philadelphia; Editing by Ellen Wulfhorst and Greg McCune)