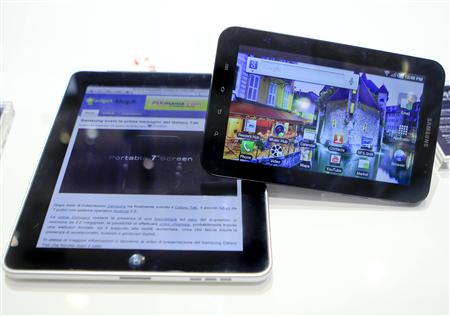 Apple
Inc scored a symbolic legal victory in efforts to keep its lead spot in the tablet computer market when a
German court
upheld a ban barring Samsung's local unit from selling its
Galaxy 10.1
tablets in
Europe
's biggest economy.Samsung, which said it will appeal the decision, and
Apple
have been locked in a global battle over
smartphone
and tablet patents since April.
Samsung's Galaxy devices are seen as among the biggest challengers to Apple's mobile products, which have achieved runaway success.
Samsung said it was disappointed by the ruling and that it believed that the ruling restricts design innovation and progress in the industry.
It said it would take all available legal options, including continuing to aggressively pursue Apple for what Samsung said are violation of its wireless technology patents around the world.
The temporary injunction upheld by the court on Friday bars Samsung Germany from selling the Galaxy 10.1 tablet in Germany.
But retailers such as consumer electronics chain Media Markt will still be able to sell the device by selling off existing stock or getting new supplies from the South Korean group's parent Samsung International.
"The ruling affects Samsung Germany and Samsung International, not the retailers or the consumers," a court spokesman said.
Patent expert Florian Mueller said in his blog www.fosspatents.com that the sales ban in Europe for Samsung Germany has no practical consequences.
The German subsidiary is also barred from selling the tablets in Europe, excluding the Netherlands where Apple requested a separate injunction.
SLAVISHLY COPYING
Giving the ruling, Judge Johanna Brueckner-Hofmann said in court in Duesseldorf that the overall impression of the tablet was too similar to the design of Apple's iPad.
"It (the tablet) is distinguished by its smooth, simple areas," Brueckner-Hofmann said.
By contrast, a Dutch court ruled last month that it found no infringement for Samsung's tablets.
Apple repeated its usual statement saying that: "This kind of blatant copying is wrong, and we need to protect Apple's intellectual property when companies steal our ideas."
In a global intellectual property battle, Apple has claimed the Galaxy line of mobile phones and tablets "slavishly" copied the iPhone and iPad and has sued the Korean company in the United States, Australia, Japan and Korea as well as in Europe.
Samsung, whose tablets are based on Google Inc's Android software, has counter-sued Apple.
On Thursday, Apple filed a suit against Samsung in Japan, seeking to ban sales of some of its gadgets there.
That same day smartphone maker HTC said that it extended its lawsuit against Apple to include more patents the Taiwanese company acquired from Google as legal battles become increasingly common in the hi-tech industry.
DUESSELDORF, Germany (Reuters) – By Nicola Leske(Editing by David Holmes)