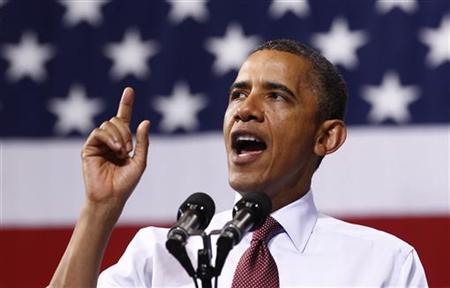 President Barack Obama will not recommend changes to the government's Social Security retirement program in his deficits proposals to Congress next week, the White House said on Thursday.
"The president's recommendation for deficit reduction will not include any changes to Social Security because, as the president has consistently said, he does not believe that Social Security is a driver of our near and medium term deficits," White House spokeswoman Amy Brundage said.
"He believes that both parties need to work together on a parallel track to strengthen Social Security for future generations rather than taking a piecemeal approach as part of a deficit reduction plan," Brundage said.
Obama is due to present his recommendations on deficit cutting on Monday to a 12-member congressional "super committee" tasked with finding at least $1.2 trillion in budget savings over 10 years.
The Democratic president had discussed changing the way Social Security benefits are indexed to inflation in his summer negotiations with House of Representatives Speaker John Boehner, a Republican, as they tried unsuccessfully to strike a "grand bargain" to cut spending and raise some taxes.
But with political pressure mounting ahead of the 2012 election, including from his fellow Democrats who want Social Security shielded, the White House is now looking to keep the popular retirement program for the elderly off the table.
A senior administration official said the package Obama will recommend is still being finalized and it was not yet possible to say whether other reforms to government assistance programs, such as a change in the eligibility age for Medicare health benefits, would be included.
WASHINGTON (Reuters) – (Reporting by Laura MacInnis; Editing by Vicki Allen)