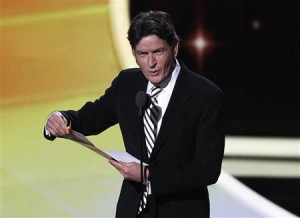 Charlie Sheen and Warner Bros are close to a settlement on the actor's $100 million lawsuit against the studio over his firing from "Two and a Half Men," a source with knowledge of the situation said on Monday.
Sheen, who has been sounding contrite in recent days regarding his troubles with the makers of his old television show, sued Warner Bros in Los Angeles Superior Court in March and the case has been in arbitration.
A Warner Bros. spokesman said no final deal has been reached and declined to comment further. Sheen's lawyer was not immediately available to comment.
Sheen was the highest-paid actor on U.S. television for the role of womanizing bachelor Charlie Harper. But he was fired after several trips to rehab and for publicly insulting creator Chuck Lorre and makers Warner Bros. Television.
In the months afterward, Sheen posted videos in which he claimed he was always winning while others were losing, boasted he had "tiger blood" and toured a live show called "My Torpedo of Truth: Defeat is Not an Option." The show met with mixed results.
But in the last few days, he seems to be on a tour of contrition, culminating in his appearance at Sunday night's Emmy Awards, U.S. TV's top honors.
"From the bottom of my heart, I wish you nothing but the best for this upcoming season," he said, addressing the cast and creators of the revamped comedy in front of a TV audience of more than 12 million people. "We spent eight wonderful years together, and I know you will continue to make great television."
Sheen told "Today" show host Matt Lauer last week that he regrets claiming he had "tiger blood" and "Adonis DNA," calling them jokes and metaphors that he never really believed. He told Jay Leno that he would have fired himself, given his behavior.
The reports of a settlement came hours before the premiere on Monday of "Two and A Half Men" starring newcomer Ashton Kutcher, and a Comedy Central roast of Sheen.
The case is Sheen et al v. Lorre et al, Los Angeles Superior Court, No. SC111794.
For Sheen: Martin Singer of Lavely & Singer.
For Lorre et al: Kinsella Weitzman Iser Kump & Aldisert.
LOS ANGELES (Reuters) – (Reporting by Alex Dobuzinskis)