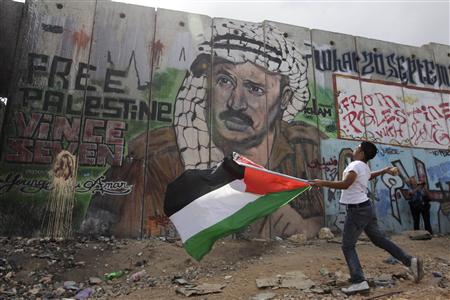 Palestinian President
Mahmoud Abbas
asks the
United Nations
on Friday to recognize a state for his people, even though
Israel
still occupies its territory and the
United States
has vowed to veto the move.Abbas will hand U.N. Secretary-General
Ban Ki-moon
an application for full U.N. membership, which the
Security Council
must then consider.
His appeal to the council reflects a loss of faith after 20 years of failed peace talks sponsored by the United States, Israel's main ally, and alarm at relentless Israeli settlement expansion eating into the land Palestinians want for a state.
It also exposes Washington's dwindling influence in a region shaken by Arab uprisings and shifting alliances that have pushed Israel, for all its military muscle, deeper into isolation.
"It is not a secret that the U.S. administration has done everything it could to prevent us from going (to the United Nations)," Abbas, 76, told reporters late on Thursday.
"But we're going without any hesitation and we will continue whatever the pressure … because we are asking for our right, because we want our independent state," he added.
Abbas will set out his case in a speech to the U.N. General Assembly, where Israeli Prime Minister Benjamin Netanyahu will also take the podium to argue that only direct negotiations between the two sides can lead to a Palestinian state.
President Barack Obama, who told the United Nations a year ago he hoped Palestinians would have a state by now, said on Wednesday he shared frustration at the lack of progress.
But he said only Israeli-Palestinian negotiations, not actions at the United Nations, could bring peace. "I am convinced that there is no short cut to the end of a conflict that has endured for decades," he declared.
But the notion that more talks in the familiar format can succeed where so many have failed seems implausible.
Abbas, a moderate politician opposed to violence, sees no alternative but recourse to the United Nations, although Israeli and U.S. politicians have threatened financial reprisals that could cripple his Palestinian Authority.
Should that happen, Palestinian negotiator Saeb Erekat said, the PA could dissolve itself, forcing Israel to consider reassuming responsibility over all of the West Bank — a major demographic and security liability for the Jewish state.
"We will invite you to become the only authority from the River Jordan to the Mediterranean," Erekat told Israel Radio.
BURDEN OF HISTORY
A gulf of mistrust separates Israelis and Palestinians, who each feel their existence is at stake in a bitter struggle over borders, security, refugees and Jerusalem.
Political rifts among Palestinians, and the constraints of U.S. domestic politics, where support for Israel is strong, further complicate efforts to bridge the gaps.
The divisions are rooted in a heavy burden of history, painfully contested narratives and recurring bloodshed.
The United Nations partitioned Palestine in 1947, but Arab states rejected that and declared war on the new state of Israel, which then captured more territory than it had been allotted under the U.N. plan and dispossessed hundreds of thousands of Palestinians, who became refugees.
Two decades after Israel seized the West Bank, including east Jerusalem, and the Gaza Strip in the 1967 Middle East war, the Palestine Liberation Organization effectively reduced its demands to a state on those territories.
A 1993 agreement signed by PLO leader Yasser Arafat and Israeli Prime Minister Yitzhak Rabin set out a plan for Palestinian self-rule, which was never fully implemented.
Israel has continued to expand settlements in the West Bank, although it dismantled them in the Gaza Strip, now ruled by Hamas Islamists who refuse to recognize the Jewish state.
Two Palestinian uprisings erupted in 1987 and 2000, but failed to end Israeli occupation or bring statehood closer.
U.S. Secretary of State Hillary Clinton said the United States would continue to push for a durable, negotiated peace.
"Regardless of what happens tomorrow in the United Nations, we remain focused on the day after," she said on Thursday.
Abbas, who has won new popularity at home for his U.N. plan, accepts that negotiations are necessary, but argues statehood will put Palestinians on a more equal footing.
Israel sees the initiative at the United Nations as a sinister attempt to shear away its own legitimacy.
Hamas rejected Abbas' statehood bid as unworthy.
"Our Palestinian people do not beg for a state," said Ismail Haniyeh, who heads the Hamas administration in Gaza.
"States are not built upon U.N. resolutions. States liberate their land and establish their entities."
Diplomats at the United Nations are already looking to limit the fallout from the Palestinian statehood application.
The Security Council could delay action on Abbas' request, giving the mediating "Quartet" — the United States, Russia, the European Union and the United Nations — more time to craft a declaration that could coax the two sides back to the table.
But the Quartet, whose envoys met again on Friday, may be unable to agree immediately on a statement that could satisfy both Israel and the Palestinians.
Italian Foreign Minister Franco Frattini said the Quartet would await the speeches of Abbas and Netanyahu before setting out "some guidelines, key points and even some red lines."
"It's better to take one or two days more rather than accelerating and having a weak statement from the Quartet," he said.
French President Nicolas Sarkozy has proposed that the General Assembly vote to upgrade the Palestinians to a "non-member state," while reviving direct peace talks.
Israel rebuffed the idea. "A Palestinian state should be the outcome of negotiations, which means a Palestinian state should mark the end of conflict and cessation of claims," Netanyahu's cabinet secretary, Zvi Hauser, told Israel's Army Radio.
UNITED NATIONS (Reuters) – By Alistair Lyon(Additional reporting by Nidal Almughrabi in Gaza, Dan Williams in Jerusalem, and John Irish, Ali Sawafta and Arshad Mohammed in New York; Editing by Doina Chiacu)