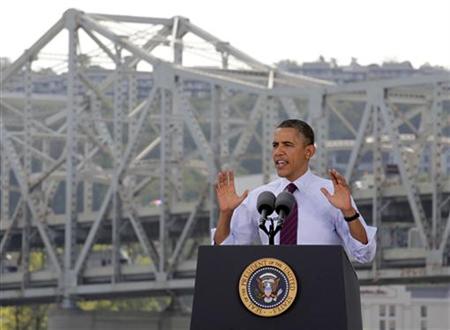 President
Barack Obama
sought on Thursday to ratchet up pressure for congressional approval of his $447 billion jobs plan, taking his pitch to the backyard of his two top Republican foes and using an aging bridge as a prop.In the latest stop on what has become a "pass this bill" tour, Obama stood on the banks of the
Ohio
River to tout his package for reducing high unemployment, and warned Republicans against letting election politics delay action.
Republicans mocked Obama's trip to the Brent Spence Bridge, a dilapidated span between Ohio and Kentucky, as political theater. They have given Obama's jobs plan a cool reception and oppose tax hikes on wealthier Americans that would pay for it, but have voiced a willingness to consider some of his ideas.
Obama pointed to the bridge, which links the home states of House of Representatives Speaker John Boehner and Senate Republican Leader Mitch McConnell and has been declared "functionally obsolete," as justification for new spending on the nation's infrastructure.
The Democratic president, whose 2012 re-election hopes hinge heavily on his ability to revive the economy, made clear he had chosen the backdrop in order to make a political point and put the two top Republican lawmakers on the defensive.
"Part of the reason I came here is because Mr. Boehner and Mr. McConnell are the two most powerful Republicans in government," Obama told a campaign-style rally. "They can either kill this jobs bill, or they can help us pass it."
"Mr. Boehner, Mr. McConnell, help us rebuild this bridge," he said to cheers. "Pass this jobs bill right away.
TRYING TO DRUM UP SUPPORT
Obama's trip to Ohio, a battleground state in presidential elections, was his latest to drum up support for the jobs plan he unveiled this month. Polls show many Americans skeptical it will do much to curb 9.1 percent unemployment.
The visit also kept up a White House offensive to sharpen his re-election campaign message — that Republicans care more about shielding the rich from higher taxes than making important investments.
A majority of Americans disapprove of Obama's economic stewardship and his opinion poll numbers have eroded amid worries the country could slip back into recession, with fresh jitters exposed on Thursday as global stock markets slumped.
McConnell, a Kentucky lawmaker, criticized Obama for using the bridge as a political stunt.
Republicans have said Obama must agree to loosen restrictions on how infrastructure money is spent at the local level before Congress will consider further spending.
"I would suggest, Mr. President, that you think about ways to actually help the people of Kentucky and Ohio, instead of how you can use their roads and bridges as a backdrop for making a political point," McConnell said on the Senate floor.
"If you really want to help our state then come back to Washington and work with Republicans on legislation that will actually do something to revive our economy and create jobs. And forget the political theater," he said.
But Obama also used his Cincinnati event to chide McConnell personally for having said in the past that his top priority was to make sure Obama was a one-term president.
"I've got news for him," Obama said. "The next election is 14 months away, and I'll be happy to tangle some time down the road. But the American people right now don't have the luxury of waiting to solve our problems for another 14 months."
The 47-year-old bridge funnels traffic from two interstate highways, suffers from overcrowding and has been on the list for renovation for years.
CINCINNATI (Reuters) – By Alister Bull(Writing by Matt Spetalnick and Alister Bull; editing by Todd Eastham)