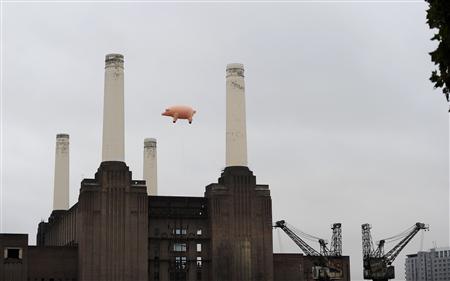 A large inflatable pig flew above
London's Battersea Power Station
on Monday in a stunt designed to mark the re-issue of British band Pink Floyd's 14 studio albums by record label
EMI Music
.The animal, measuring 30 feet long and 15 feet high, was inflated with helium at dawn for the event, held 35 years after the making of the album cover for "Animals" featuring a similar flying pig.
EMI had planned to use the same inflatable pig, which had been kept at a workshop since the original shoot, but two weeks ago it was deemed not to be airworthy and a replica was made.
The artwork on the Animals album was a combination of a photograph of the background of Battersea Power Station taken on December 2, 1976, and the pig photographed on December 4.
On December 3 that year, the pig slipped its moorings and floated into the Heathrow airport flight path before being recovered by a farmer in Kent, southeast England.
Howard Bartrop, a photographer who worked on the 1976 shoot, recalled the difficulties involved.
"It was quite tricky that day and very cold and of course famously after a day or so we had the problem where he (the pig) floated up away from the building and was spotted by commercial pilots landing into Heathrow," he told Reuters.
"He then floated off toward Kent, followed by a police helicopter, landed in a farm I believe and frightened all the cattle.
"Basically he was retrieved, patched up and put back in the air the next day so we could try and photograph him again."
Under the banner "Why Pink Floyd … ?," EMI Music is releasing all 14 Pink Floyd studio albums remastered and available digitally. They are also available as one Discovery Box Set.
Also on sale from Monday are special editions of one of the band's most acclaimed albums, "The Dark Side of The Moon," extended to feature unreleased music from Pink Floyd archives.
Pink Floyd, behind seminal albums The Dark Side of the Moon, "Wish You Were Here" and "The Wall," is one of the most successful rock bands of all time, having sold an estimated 200 million albums worldwide.
The group, also famous for its acrimonious split and one-off reunion at charity concert Live 8 in 2005, re-signed to long time record label EMI in January in a five-year deal.
The agreement also brought to an end a legal dispute between the sides over EMI's right to "unbundle" their records and sell individual tracks online.
LONDON (Reuters) – By Edward Baran(Writing by Mike Collett-White, editing by Paul Casciato)